Definition: Employee Retention refers to the ability of the organization to avoid the turnover of the employees. That is to keep its invaluable manpower. Besides, it is a state wherein the employees opt to stay and work for their current company. Also, they don't look for other job prospects. Therefore, it is diametrically opposite to employee turnover.
In addition, it is a process whereby the organization ensures that its employees do not quit their job voluntarily or involuntarily.
Note: The retention rate varies from one company to another industry-wise.
It is an organizational goal to keep efficient employees to reduce employee turnover. For this, the organization has to maintain a positive work environment and culture. It tends to:
Companies focus on retaining employees when the rate of unemployment is low and the competition for attracting talent is high.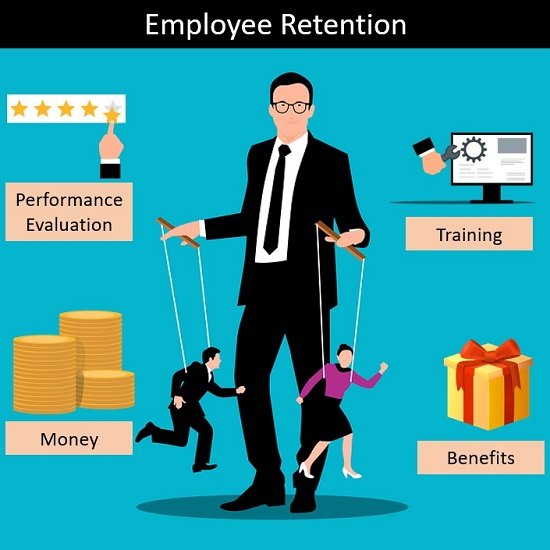 Why do Employees Leave?
The primary reason for the employee's leaving an organization is:
Frustration
Conflict with superiors and teammates.
There are certain companies that take recourse to retention strategy. This is to keep people when the skilful people are not easily available in a specific field. Basically, it rests upon the analysis of – why do employees leave? Although, exit interviews supply some information about the reasons for employee turnover. But that information is not enough.
Many people do not disclose the real cause of leaving the company. In this regard, attitudinal surveys are proven helpful. The surveys assist in knowing the areas where lack of commitment and dissatisfaction is present. Hence, the HR executives can address these areas in the retention programmes.
Employee Retention Programme
The Employee Retention Strategy of an enterprise covers various policies and practices. They cause the employees to continue their employment in the organization for a longer duration. The employee retention programme works on the following aspects:
Uncompetitive and Unfair Pay
If the problem evolves due to an uncompetitive or unfair pay scale, the measures that could be implemented to resolve include:
Revision of the pay scale, after performing the market survey.
Using job evaluation to attain equitable grading decisions.
Make certain that the employees recognize the relation between performance and reward.
Fairly implement a payment system based on performance and carry out periodic surveys.
Coming up with benefits that fulfil the needs and preferences of employees.
Involving employees in job evaluation and formulation of performance-related pay schemes.
Unrewarding Jobs
If the jobs are not rewarding, it may also cause dissatisfaction. An organization can make efforts to redesign them so as to:
Improve skill variety
Autonomy
Task relevance and
Feedback
They must ensure that the job provides a proper opportunity for learning and growth.
Confusion regarding responsibility and performance standards
If there is vagueness in responsibility and performance standards, it is difficult for employees to coordinate. They also perceive that their performance appraisal is not appropriate. In such a case, the following measures can be adopted:
Determine performance requirements with respect to attainable goals.
Make employees accept these goals. As well as undertake steps that are required for their achievement.
Appreciate employees when their performance is above average. Also, give relevant feedback for corrective actions.
Training to Managers and Supervisors
The company should train their managers in performance review techniques. The techniques can be related to counselling and seeking feedback from people. That is to say, how the system of performance management influences them? And how can it help in improving the employee's attitude and motivation for effective performance?
Lack of training for people
If the employees are resigning from their job because they are not well trained, the company can make efforts to train them. For this, the management can introduce a learning and training system and implement them to:
Provide necessary competence and confidence so that they can achieve desired performance.
Upgrade their skills and competencies.
Help employees in acquiring fresh skills and competence. Consequently, this will help them earn better by applying these skills.
Focus on Career Development
Emphasizing the career planning and development of the employees by:
Providing a good experience to employees while they are working for the organization.
Identifying the capabilities of employees and channelizing them.
Make use of the internal promotion system
Introducing equitable promotion procedures.
Supplying career counselling sessions..
Encouraging Employee Commitment
The commitment of employees can be promoted by:
Imparting the mission, values and strategies of the company among its employees.
Making use of effective communication measures mainly through discussion groups.
Looking for the opinion of people about the work and wages to improve the entire work system.
Evolving necessary job and organizational changes after proper consultation and discussion with authorities.
Participative Management
When the employees don't feel like they are members of a cohesive work team. This will cause them unhappiness. the management can make attempt to:
Include employees in decisions by way of participative management
Poor Leadership
If the reason for conflict and dissatisfaction among employees is due to poor leadership, the firm can make efforts to:
Develop leadership skills among the managers and supervisors.
Inculcating skills in settlement of conflicts and grievances.
Introduce effective procedures for managing grievances and disciplinary actions.
Poor selection and promotion of employees
This may also result in employee turnover. So the management can work on making the human resource more effective.
Over-Expectation
Employees resign frequently due to over-expectations of the management about career development opportunities.
Methods of Retention
All in all, the company can use the following methods to retain their employees for long term:
Offer fair and competitive salary and benefits
Train the supervisors, managers and administrators
Define roles and responsibilities clearly
Provide adequate career development opportunities
Offer retention bonuses
Undertaking employee satisfaction survey
Fostering an environment of teamwork
Provide a variety of assignments
Creating an environment of open communication
Encourage learning and training of employees
Organizing an effective employee orientation programme
Show employees that they are valuable
A word from Business Jargons
Above all, if a company wants to succeed in the long run and survive cutthroat competition in the industry, all they need is to do is keep its most efficient employees on board. Besides, a high employee turnover harms the ability of the organization and reputation as well.