Definition: Statistics can be defined as a part of applied mathematics that is concerned with the collection, classification, interpretation, analysis or the numerical and categorical data and facts, and drawing conclusions, so as to present the same in a systematic manner.
It involves a wide variety of methods which facilitates data analysis, for decision making purpose.
It can be used to answer questions such as:
What kind of data is to be collected?
How much data is to be collected?
How to organize and summarize data?
How to analyze data and draw inferences from it?
How do we assess the strength of conclusions and evaluate their uncertainty?
Characteristics of Statistics
Statistics is characterized by: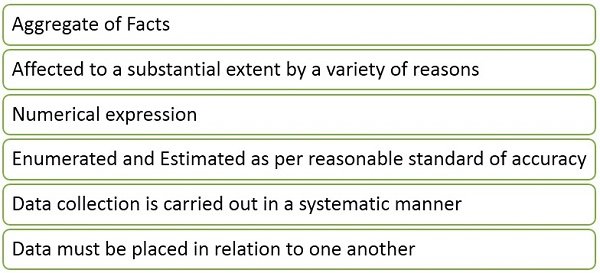 Aggregate of Facts: Single and non-connected facts or figures are not statistics, rather when the facts are aggregates, they are said to be statistics, as they can be compared
Affected to a substantial extent by a variety of reasons: This means that statistics are influenced to a substantial extent by a number of factors that operate together. For example, The statistics of rice production is based on various factors like a method of cultivation, climatic conditions, seeds, fertilizers and manures, etc.
Numerical expression: Statistics are expressed in terms of numbers. Therefore, qualitative expressions such as happy, sad, right, wrong, good, or bad do not amount to statistics. For example: 'Production of ABC ltd. has risen' is not statistics, but 'Production of ABC ltd. has risen from 92000 units in 2020 to 110000 units in 2021' is statistics.
Enumerated and Estimated as per reasonable standard of accuracy: Reasonable accuracy needs to be there in the statistical data, as it acts as a basis for the field of statistical enquiry. This is because, if the scope of the inquiry is narrow, then by using the method of actual counting, the data can be collected, whereas if the scope of inquiry is wide then the data collection will be based on estimate and estimates can be inaccurate.
Data collection is carried out in a systematic manner: The collection of statistics should be performed in a systematic as well as planned manner, because in the absence of any system, the data collected can be unreliable and inaccurate, which may also lead to misleading conclusions. Further, the purpose for its collection needs to be stated beforehand to keep its usefulness intact.
Data must be placed in relation to one another: Data collection is performed for the purpose of comparison and so the basis must be homogeneous. Because when the basis of two units is heterogeneous, the comparison is not possible.
Functions of Statistics
Statistics performs the following functions: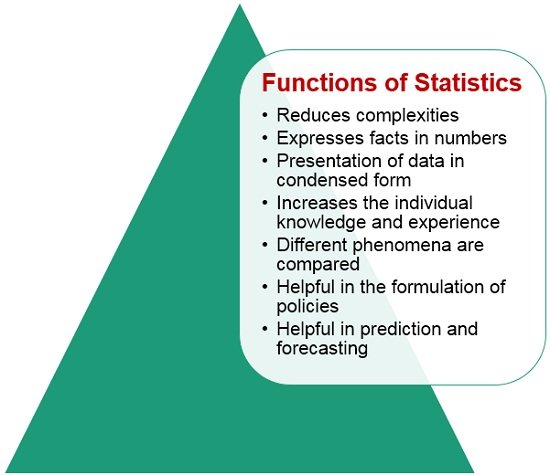 Reduces complexities: Using statistical methods, voluminous data can be presented in a way that it can be easily understood. Hence, it reduces the complexity to understand a vast amount of data, to simplify its meaning.
Expresses facts in numbers: An important function of statistics is that it can transform facts into numbers, which is easy to understand by anyone.
Presentation of data in condensed form: Data collected is usually in raw form, which is complex and unorganized. Hence, it requires to be presented in a simple form so as to reach a final conclusion. With the help of statistics, a large amount of data can be presented in condensed form.
Increases the individual knowledge and experience: As the presentation of data is simple, it enhances the knowledge and experience of people, by making it simple and easy to understand, without having knowledge of each and every field.
Different phenomena are compared: Statistics helps in making a comparison of data and measuring the relationship between them. For example: Suppose a researcher wants to measure the level of production of soybean in two states, then he/she would use statistics.
Helpful in the formulation of policies: Plans and policies are developed beforehand in an organization. And statistics plays a very crucial role in determining the future trends, so as to frame them, by providing the required information.
Helpful in prediction and forecasting: The knowledge of statistics is not just helpful in estimating the present but it also helps in forecasting the future
Divisions of Statistics
The different types or branches of statistics are discussed hereunder: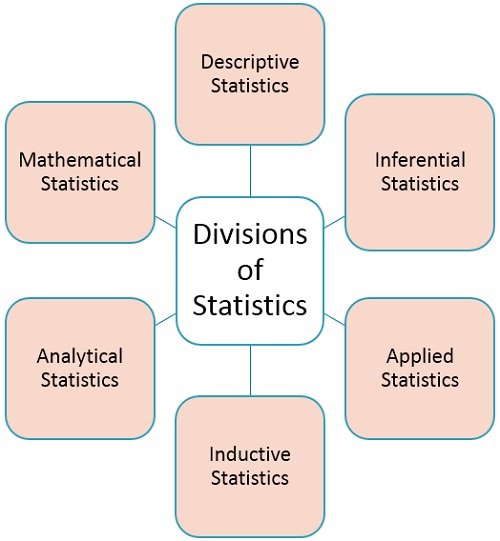 Descriptive Statistics: It involves describing and summarizing the sets of numerical data with the help of pictures and statistical quantities. Techniques used may include averages dispersion, skewness, time series, etc.
Inferential Statistics: It encompasses those methods that are helpful in drawing conclusion and inferences with respect to parameters of population, based on estimates which are drawn from samples. Chi-square, F-test, t-test, etc techniques are used.
Applied Statistics: Those methods and techniques are used in applied statistics which are applicable to specific problems of real-life scenarios. Techniques used may include sample survey, quality control, index numbers etc.
Inductive Statistics: Those methods and techniques are covered here which are used to identify a specific phenomenon based on random observation. Techniques used may include Extrapolation.
Analytical Statistics: Analytical statistics uses such methods and techniques that are helpful in setting up functional relationship amidst variables. In this correlation, regression, association and attributes techniques are used.
Mathematical Statistics: It deals with the application of different mathematical theories and techniques to develop different statistical techniques. It uses techniques like integration, differentiation, trigonometry, matrix, etc.
A Word from Business Jargons
Statistics is a vast discipline, with application in numerous fields like research, finance, sports, economics, marketing, health, education, etc. In simple words, it is a science of interpreting, analysing and drawing conclusions from the data collected