Definition: Trade show is a sort of business exhibition wherein members of the industry, or a particular segment of the industry, showcase, and discuss, their brand new products and services which are ready to launch in the market.
These are sponsored by the trade associations of the concerned industry, in an attempt to create excitement in the market, regarding the new products and services. Prior to the commencement of the tradeshow, the exhibitor must set out the objectives, be it:
Building brand awareness
Generation of targeted leads
Closing deals
Learning industry insight
Networking
Improving corporate image
Trade Shows causes different players to meet, collaborate, learn and pick new ideas, analyse the market trends and opportunities, keep an eye on the activities of competitors and connect with the customers and clients.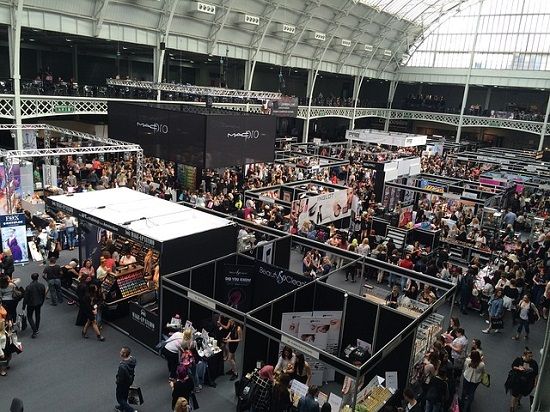 Several companies set up booths to display videos, promotional content, etc. on this event.
Characteristics of a Trade Show
The points given below will discuss the characteristics of a trade show: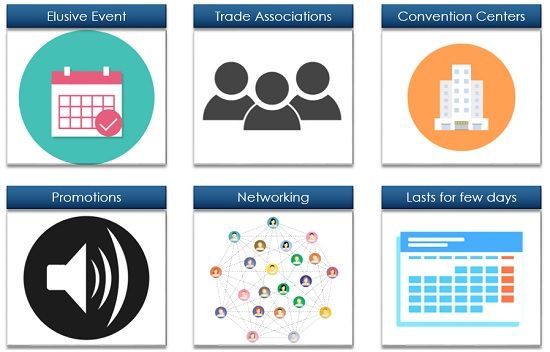 Elusive event: A trade show is an elusive event in which only the company's representatives, media persons, association members and top professionals are invited, this simply means that the general public is not allowed to come over. However, some trade shows are open to the general public also.
Sponsored by Trade Associations: A trade show is arranged and sponsored by the trade association of the concerned industry, so as to facilitate the gathering of different players, talk about new ideas, technologies and trends.
Held at convention centres: Trade Shows are the events conducted at convention centres or spacious meeting halls in metropolitan cities so that many companies can set up booths to display products and services and allow visitors to attend the event while connecting with businesses.
Promotion of New Products: Latest products are often announced or promoted at these events, so as to get the desired media attention and customer engagement.
Networking: Participants, i.e. business firms and professionals can build contact and expand their network.
Lasts for a few days: A trade show is not a one-day affair, rather it lasts for several days, usually three to four days.
In a trade show, the company's representatives deliver speeches, demonstrate the products and also engage in other promotional activities so as to get the maximum attention of media and other attendees.
Advantages of Trade Shows
Trade shows serve as an important communication tool, especially for multinational companies. The advantages of trade shows are listed below: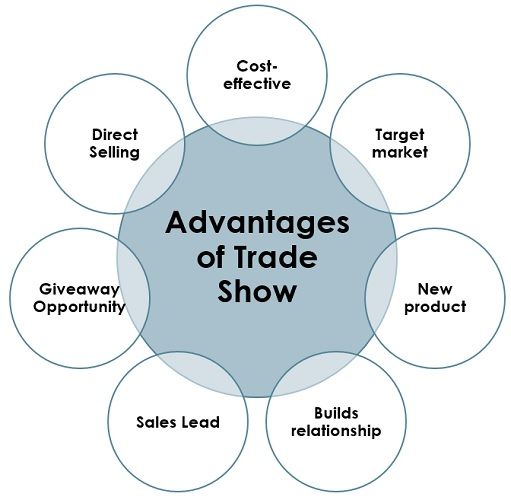 Cost-effective: Trade shows are cost-effective in the sense, that it costs less to make a sale to a trade show contact, as they have already seen your product and know its specifications quite well, and are genuinely interested in purchasing your product as compared to non-trade show contact.
Target market: Trade Shows bring together, individuals belonging to the same industry, who may be immensely interested in the product demonstrated by the firm.
New product: Trade Show is a great platform to launch and promote a new product, as people travel miles to attend the trade show, just to know about the newest products, technology, brand, etc.
Builds relationship: Trade shows are a useful way to develop a direct relationship with the client, by way of one-to-one communication, which often helps in expanding the network.
Sales Lead: Trade shows often results in the generation of sales lead, as new business relationships and contacts come into being which tends to open a path for new sales opportunities. There are instances when firms identify new markets to explore or need for a new product.
Giveaway Opportunity: It can be used as a selling strategy to giveaway your product to the visitors or the products having your brand name embedded. It increases awareness about the product and service.
Direct Selling: Trade show can also serve as a direct selling technique, as it facilitates direct interaction between the client/customers and company representation, who can verbally explain the features and specification of the product and handling brochures.
So, Trade Show is nothing but a promotional event which allows you to take a sneak peek of the current market happenings and trends and moves of the rivals.