A Business Report is a systematic and objective presentation of facts and information that assists in decision making. There are many types of business reports which are divided into different categories.
Types of Business Report
On the basis of Need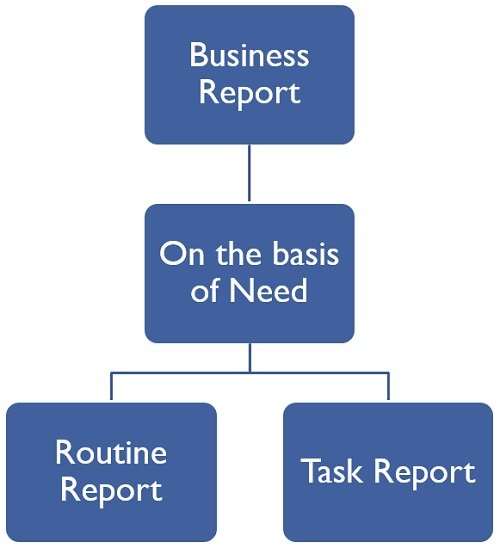 Routine Report
Routine Reports facilitates a firm in monitoring and regulating processes and procedures. These reports are needed on a regular basis. That is to say daily, weekly, quarterly, semi-annually or annually. Due to this characteristic, these are alternately known as periodic reports. These reports have a pre-defined format. Also, the chain of responsibility is pre-fixed, as to:
Who will collect data,
Who is going to prepare and compile that data,
To whom the report is to be submitted
Users of data
Some examples of routine reports are progress report, expense report, performance appraisal report, inspection report and sales report.
Task Reports
These are one time reports. These are prepared as a result of an investigation concerning a matter. These reports provide relevant information, interpretation to the reader, draw conclusions and also give recommendations. They not just provide information, but also give analysis and interpretation of the research findings.
On the basis of Length
Long Formal Report
Official document which is open to the public at large is the long formal report. These reports are called so due to the language used in them. Also, it contains explanatory sentences and is arranged in a systematic order. The order can be:
Title Page
Contents
Synopsis
Terms of Reference
Introduction
Findings
Conclusion
Recommendation
Appendix
Bibliography
Index
Short Formal Report
Firm's prepare these reports for internal review. These contain less number of pages as compared to a long formal report. Hence, it is brief and to the point. There are instances when recommendations and conclusions are present at the beginning of the report. It may be as long as 10 to 15 pages. It includes:
Title Page
Terms of Reference
Introduction
Findings
Conclusion
Recommendation
Appendix
Informal Report
Preparation of informal reports is for internal use of the company. It takes into account routine issues and matters that concern departmental activities. We use the format of a memorandum to present this report. These are generally 2 to 7 pages long. They are called so because they do not follow certain principles of writing. Its arrangement is as under:
Terms of Reference
Introduction
Findings
Conclusion and Recommendation
On the basis of Purpose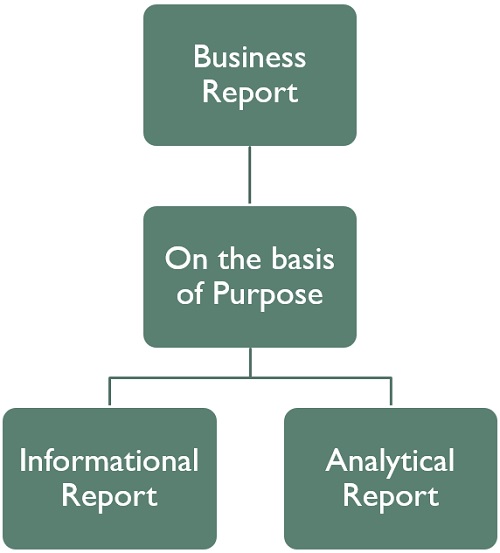 Informational Report
These reports contain facts, which aims to inform the reader. And so, the reader can get knowledge about the details of events, activities and conditions when he reads the report.
Analytical Report
To make an analytical report, the writer gathers all the relevant information. Then, analyzes the same. After that, the analysed material is presented to the user. This allows the reader to make rational decisions and solve various problems. Some examples of these reports are feasibility reports, research reports and recommendation reports.
On the basis of Physical Form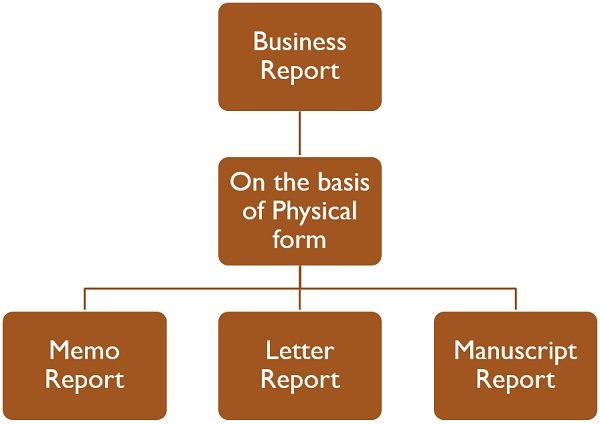 Memo Report
Memo stands for Memorandum. These are short messages meant for internal business communication. Circulation of these reports takes place between employees within the organization. Format of memo reports is just like a memo. Further, the communication flows both horizontally and vertically.
Letter Report
Short reports presented in a letter format are letter reports. Due to these characteristics, it contains various details. They include the address of the sender and recipient, date of writing letter, salutation, subject line, closing line, signature and so forth. They are two pages long. Based on the relationship of the sender with the reader, the sender can use either formal or informal writing styles.
Manuscript Report
Variously known as a formal report. It is long in the sense that it extends up to many pages. It may cover many tables and calculations.
On the basis of law
Statutory Reports
These are the reports which need submission as per the provisions specified by statute. These include Director's Report, Auditor's Report and Annual Report.
Non-Statutory Report
These reports that the law does not make compulsory but are a part of modern management procedure. One classic example of such a report is Committee Reports.
On the basis of Person Drafting Them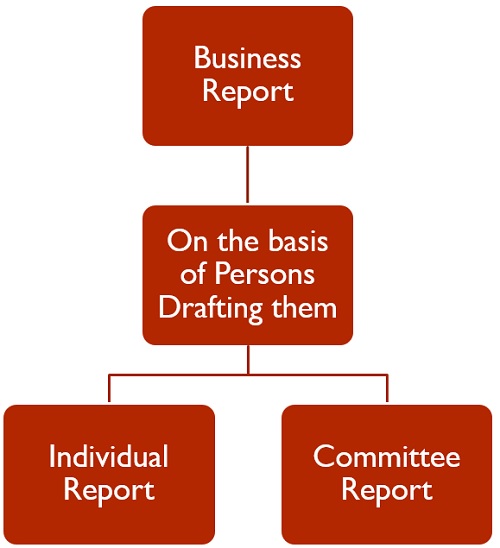 Individual Reports
The reports state the work of the department or unit. Firm's branch manager, production manager, purchase manager, company secretary, solicitor, and auditor submits them.
Committee Reports
There are certain cases in which a business report is a must on areas that concern multiple departments. And it is so important that the firm prefers to make a team of experts, i.e. a committee. Firms entrust the task of preparing reports to these committees. Further, such reports have a formal style and impersonal tone. Preparation of these reports needs thoughtful process and deliberation of members.
A Word from Business Jargons
All in all, business reports are of utmost importance as it is essential for getting new ideas or insights into an issue. An enterprise also needs this report when enquiry or investigation takes place.