Definition: Business Finance refers to that area of finance which deals with money and credit used in the business and how the money is raised. It is all about estimation, arrangement, and application of funds so that the business has sufficient cash to carry out operations effectively and efficiently, without any interruption.
It involves activities like planning, raising, controlling, and administering funds of any kind which is employed in the business. The size and scale of operations of any business can be determined by the availability of finance.
In multinational corporations, there are finance committees who are responsible for making financial decisions, whereas, in small enterprises, the owner or manager is responsible for making such decisions.
Need of Business Finance
Finance is the basic need of every business to survive, grow, expand and diversify. Have you ever thought that a firm can arrange the 4M's (Men, Machinery, Material, and Manager) only when it has that main 'M' which is money? You might have heard about a number of firms which have been closed down due to lack of funds. Business Finance is needed to fulfill the following objectives: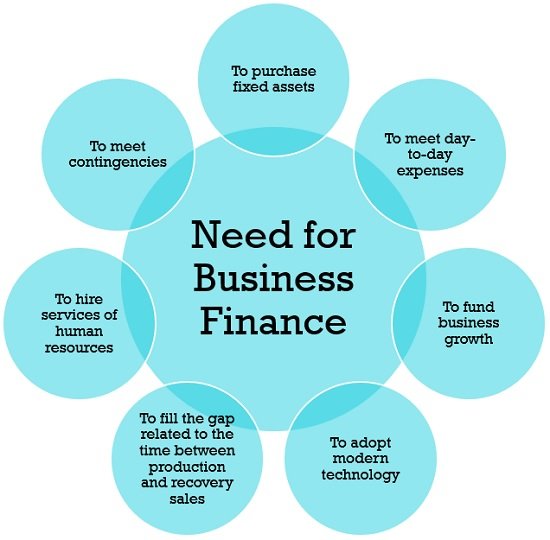 To purchase fixed assets: Every business organization requires some fixed assets such as land and building, plant and machinery, furniture and fixtures, etc., and huge funds are required for purchasing these assets.
To meet day-to-day expenses: Once the business is set up, funds are required to perform day-to-day business operations like the purchase of raw material, payment of salaries, rent, taxes, phone and electricity bills, etc.
To fund business growth: It is to be noted that, the growth of business greatly depends on the expansion of the existing business line, by adding multiple product lines, and the enterprise requires funds to further growth of the business.
To adopt modern technology: It is quite obvious a firm can adopt state-of-the-art technology when it has got adequate financial resources to acquire them. In the absence of that firm has to stick to that old technology to produce goods.
To fill the gap related to the time between production and recovery sales: It is quite obvious that sales of the goods produced cannot be made at the same time when the production is over. So, there is always a time gap between the two events, i.e. between production and realization of cash out of the sales made. And during this time business expenses continue to incur, for which funds are required.
To hire services of human resources: Manpower is the most basic requirement of every organization. In fact, a business cannot operate if it does not have a sufficient and competent workforce. To acquire the services of human resources, they need to be paid for their work, which is only possible when the company has adequate funds.
To meet contingencies: Contingency is basically an anticipated negative event often unforeseen and non-recurring in nature that may take place in the future. And to cope with these contingencies, funds are required such as shortage of raw material, fire breakout in godown, etc.
Nature of Business Finance:
Lifeblood of business: Finance is needed at every step, to perform various business activities, irrespective of the type and size of the firm.
Umbrella term: Business finance is an umbrella term which not just covers the estimation of funds but also sources of finance, investment of funds raised, management of cash disposal, control of funds, etc.
Basis of Business Activities: Finance is the basis of different business activities like purchasing, production, human resource, research & development, and marketing. In the absence of adequate funding, it is difficult to carry out such activities.
Fund requirement differs from business to business: The amount of funds required differs from one business to another, for instance, the requirement of funds would be higher in the case of a large company, as compared to a smaller one. Further, the difference in fund requirement is also based on the time period.
Types of Business Finance
With the above discussion, it is quite clear that the type of funds and the total amount of funds required by the business differs from one organization to another. The larger the size, the greater will be the amount of funds needs for its operations. Additionally, a manufacturing firm requires more funds, as compared to a trading one. Business finance is mainly classified into three main categories: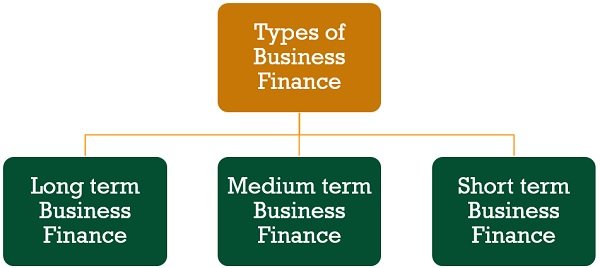 Short-term Business Finance
As the name signifies, short-term business finance means the financing required to meet operational expenses such as purchase of raw material, wage payment, payment of rent and insurance, electricity, water, and phone bill payment, etc. Short-term finance is usually required for a period of 0 – 1 year. Another name for such financial requirement is working capital requirement or circulating capital requirement.
Here one should note that a certain portion of working capital requirement is long-term in nature, as a part of these funds is retained to meet the stock requirement and day-to-day business expenses.
Medium-term Business Finance
The period of finance, in this case, ranges from 1 year to five years. It is primarily required for investment purposes like special promotional campaigns, advertisement, modernization, and renovation, etc.
Long-term Business Finance
When the term of financing is beyond five years, then it is termed as long-term finance. This is required to acquire fixed assets like land and building, plant and machinery, vehicles, furniture, etc.
Advantages of Business Finance
A business can be capable of meeting its obligations on time. It is a well-known fact that timely payment of debts creates a credit standing and this will help in raising funds whenever required.
Firms can avail business opportunities easily, without looking for someone to finance their needs. for instance, it can buy goods at a discount, in bulk.
It helps in carrying out operations smoothly, without any delays and interruptions.
The firm can also repair, or replace its plant and machinery, whenever required, which can help in improving the overall efficiency in operations.
Even in the worst situations like recession, trade cycles and lockdown, etc. firms can easily cope up.
A word from Business Jargons
Business Finance plays a crucial role in business, which is required not only to start a business but also to run it, expand, modernize operations, and also to compete in the market in the long run to secure a dominating position. It is related to planning, organizing, directing, and controlling the company's financial activities.