Definition: The Capital Budgeting Techniques are employed to evaluate the viability of long-term investments. The capital budgeting decisions are one of the critical financial decisions that relate to the selection of investment proposal or the course of action that will yield benefits in the future over the lifetime of the project.
Since the capital budgeting is related to the long-term investments whose returns will be fetched in the future, certain traditional and modern capital budgeting techniques are employed by the firm to judge the feasibility of these projects.
The traditional method relies on the non-discounting criteria that do not consider the time value of money, whereas the modern method includes the discounting criteria where the time value of money is taken into the consideration.
Capital Budgeting Techniques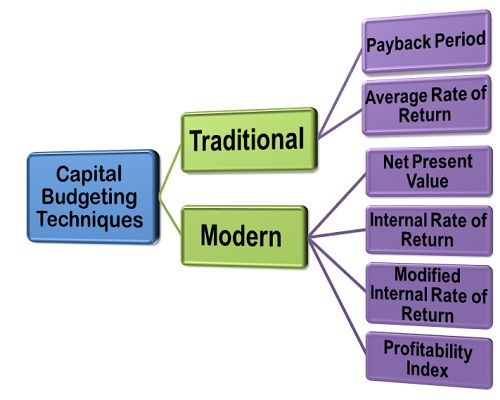 Traditional methods
The traditional methods comprise of the following evaluation techniques:
Modern Methods
The modern methods comprise of the following evaluation techniques:
The common thing about both these methods (Traditional and Modern) is that these are based on the cash inflows and the outflows of the project.