Definition: In simple words, the digital economy, is an economy which operates predominantly with the help of digital technology. It implies the global network of economic activities, processes, transactions and interactions among, people, businesses, devices, etc. which is supported by Information and Communication Technology (ICT).
In this, the maximum number of business transactions are concluded with the help of digital media, internet or world-wide-web.
Essential Elements of Digital Economy
Digital Economy facilitates and executes the buying and selling of products and services through electronic transactions undertaken by means of the internet. Its essential elements are:
Digitalization and using Information and Communication Technology (ICT), rigorously.
Knowledge codification
Conversion of information into commodities
Organizing work and production in modern ways.
Hyperconnectivity, i.e. emerging interconnectivity of people, firms, systems, etc. as a result of the internet, mobile technology and Internet of Things (IoT).
Benefits of Digital Economy
The benefits of the digital economy are given in the points below: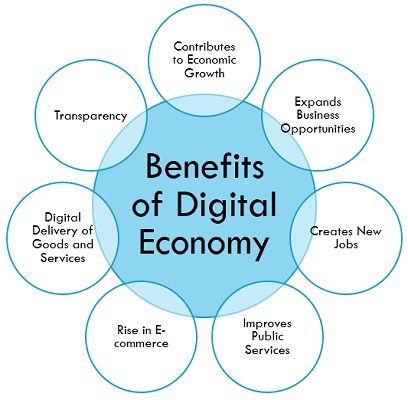 Contributes to Economic Growth: The widespread digital economy has recorded tremendous growth and innovation as well as it can be broadly applied to other economic sectors
Expands business opportunities: It has also reported an increasing trend in the business opportunities for those firms and businesses which are overlooked in the global marketplace. Digitalization enables small firms and businesses to actively participate in international buying and selling of goods and services.
Creates new jobs: It is a well-known fact that the digital economy has given a boost to jobs too. In the last few years, the development of mobile apps has solely created millions of jobs worldwide.
Improves public services: A set of global access to broadband and a powerful information and communication technology services ecosystem provides a platform to improve service delivery in core sectors.
Rise in e-commerce: A recent growth in e-commerce transactions has been reported in the last few years. And all credit goes to the digitalization of commercial activities, due to which developing, buying, distributing, selling and tracking of products and services, has become much simpler, competitive, and profitable.
Digital delivery of goods and services: With digitalization, the way in which goods and services are delivered has been changed drastically. From aviation to banking, entertainment to education and insurance to hotel booking, one can easily get the goods and services of their need, online.
Transparency: In the digital economy, major commercial transactions take place online, which eliminates cash transactions, and ultimately increases transparency and reduces corruption.
Digital Economy covers a broad spectrum of activities, which uses information and knowledge in digital form. Nowadays, to collect, store, analyze and share data in digital form, technologies like internet, cloud computing, big data is used.
Limitations of Digital Economy
The limitations of the digital economy are discussed as under:
Cybersecurity: An exponential increase in cyber threats has been reported in recent years due to increasing digitalization in the economy. Except if cybersecurity is countered successfully, it will not be easy to develop a safe and trusted environment, which is conducive to the growing business.
Disruptions in labour markets: Though it is assumed to create new job opportunities, there is also a risk related to the speed of labour market changes and destruction of basic jobs. As everything will be digitized and automated, processes that involve labour and manual work will be avoided and is replaced by technology-oriented work, which will result in loss of jobs and may also widen income inequality.
Strong infrastructure requirement: It requires strong infrastructure concerning internet, telecommunication and mobile industry. For the development of such industries, heavy investment is required, so as to link all the cities, towns and villages.
With the emergence of the digital economy, consumers can get easy and quick access to information, due to the digitization of the content. Moreover, sharing of information with their friends and acquaintances is now just a click away.