Definition: E-banking is a blanket term used to indicate a process through which a customer is allowed to carry out, personal or commercial banking transactions using electronic and telecommunication network.
It is a product offered by banks which facilitates online banking, with the help of which the customer can have access to the bank account in just one click.
E-banking covers facilities such as – fund transfer, checking account statements, utility bill payments, opening of bank account, locating nearest ATM, obtain information on financial products and services, applying for loans, etc. using a personal computer, smartphone, laptop or personal digital assistant.
Let's look at the types of digital payments: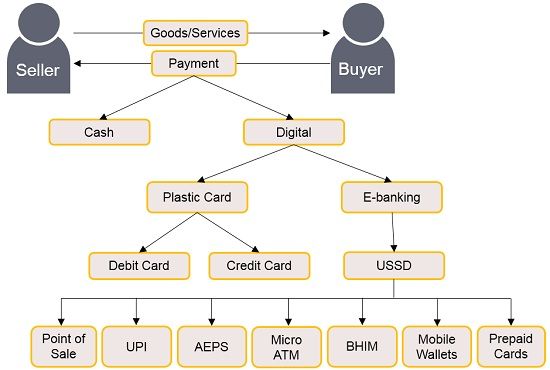 E-banking Services
In simple words, e-banking refers to a banking arrangement, with which the customer can perform various transactions over the internet, which is end-to-end encrypted, i.e. it is completely safe and secure.
E-banking promotes paperless/cashless transactions. It comes with a number of rights, responsibilities and fees as well. The range of services covered under E-banking are:
Internet Banking: A banking facility provided to the customers through which the customers are able to perform a number of monetary and non-monetary transactions, using the internet, through the bank's website or application.
Mobile Banking: Almost all the banks have designed their mobile applications with which you can perform transactions at your fingertips. For this, four things are required – a smartphone, internet, mobile application, and mobile banking service enabled in your bank account.
ATM: Automated Teller Machine, popularly known as ATM is one of the most common and initial service, provided under e-banking. It is not just a machine with which you can withdraw cash as and when required, but it also allows you to check your account status, transfer fund, deposit fund, changes mobile number, change Debit Card PIN, i.e. Personal Identification Number.
Debit Card: Debit cards are used in our day to day life so as to perform end number of transactions. Debit cards are linked to the customer's bank account and so the customer only needs to swipe the card, in order to make payment at Point of Sale (POS) outlets, online shopping, ATM withdrawal. In this way, the amount is deducted from the customer's account directly.
Credit Card: Just like a debit card, a credit card is also a payment card which the banks issue to the customers on their request, after checking their credit score and history. It enables the cardholder to borrow funds upto the pre-approved limit and make payment. The limit is granted by the banks which issue the card. The cardholder promises to repay the amount within a stipulated time, with some charges, for the use of credit card.
Point of Sale (POS): Points of sale system refers to the point, in terms of date, time and place (retail outlet) where the customer makes a payment, using a plastic card, for the purchase made or services received.
Electronic Data Interchange (EDI): EDI is a new mode of communicating information between businesses electronically using a standardized format, which was conventionally paper-based.
Electronic Fund Transfer (EFT): When money is transferred electronically from one bank to another, it is called as electronic fund transfer. It covers direct debit, direct deposits, wire transfers, NEFT, RTGS, IMPS, etc.
Benefits of E-banking
It enables digital payments, which encourages transparency.
It allows 24/7 access to the bank account.
It also sends notifications and alerts to get updated with the banking transactions and changes in the rules.
It lowers transaction cost for the banks.
It is convenient and easy for customers, as they are not required to visit the bank branch every time.
In a nutshell, any type of banking transaction performed through electronic mode comes under E-banking.
It is a secure, fast and convenient electronic banking facility that allows its customers to undertake online banking services anytime during the day and at any place using the internet, for which the customers used to visit the banks in earlier days.