Definition: The HR Dashboard is the visual representation of the metrics that an HR manager needs to keep a track of to judge the performance of different organizational departments. Apart from the records of personnel, it includes the business performance dashboard, marketing dashboard, sales dashboard, finance dashboard, etc.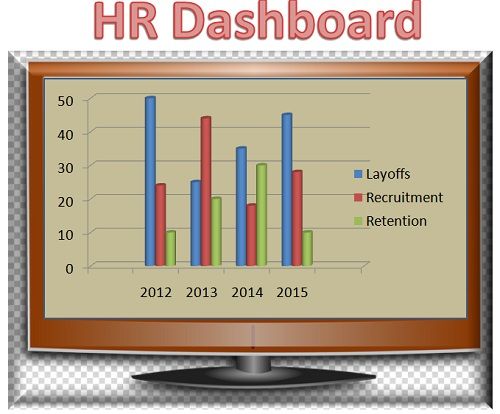 There is no standard format for creating the HR dashboard; every company has its different dashboards that vary according to their unique requirements. Some of the basic metrics covered in all most every type of HR dashboard are explained below.
HR Dashboard Metrics
Employee Headcount: The number of employees working in different departments at different positions along with the number of years of experience is recorded.
Recruitment and Staffing: The number of positions lying vacant in different departments for different levels in the organization along with the number of vacancies already filled in by the personnel is maintained.
Payroll: The payroll cost is recorded Viz. Payroll cost per team, payroll cost by different levels, payroll cost by different departments in the organization.
Employee Time: The employee's arrival time, departure time, working time, absenteeism is recorded.
Attrition: Keeping a track of the number of layoffs, either forcefully or voluntary from different departments in the organization.
Incentives and Commissions: The amount of incentives to be paid with respect to the cost incurred on an employee, Incentives to be paid out of a given budget is maintained by the HR team.
Exit Interviews: The record of the number of employees leaving the organization and keeping a proper data about the reason behind their departure.
Skills: The individual competencies along with the possession of unique skills is recorded.
Compensation: The amount of compensation to be paid to each employee performance wise and category wise is computed.
Termination: The data about the number of employees terminated from their positions and the reason for the same is recorded.
Training metrics: The training programmes to be carried out to incorporate essential skills and abilities in an individual is summarized.
Thus, the HR dashboard is used for gathering, verifying, sorting the necessary information for the consumption of the top management. The purpose behind creating the dashboards is to keep a check on the performance of each department and see the progress towards the set goals.