Definition: When there is an inefficient allocation of goods and services in a free market, such a situation is termed a market failure. It arises when the market fails to efficiently create and distribute scarce resources. Here the term 'efficiently' means the way in which the highest social welfare can be achieved.
In a free market, the demand and supply forces, determine the prices of goods and services. Therefore, even the slightest change in any of the two forces may lead to price change and a corresponding change in the other force.
When there is market failure, the quantity of goods and services demanded by the consumers does not match the quantity supplied by the suppliers, i.e. either there is underproduction or overproduction of goods and services, resulting in a misallocation of the resources and less than optimal outcome.
Causes of Market Failure
The different causes that result in market failure are discussed hereunder: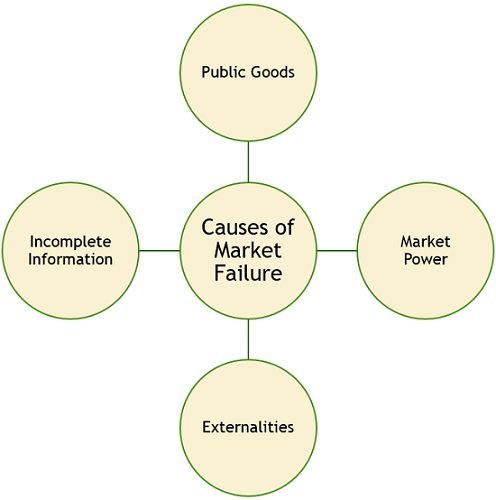 Public Goods
Public Good, also known as a social good, or collective consumption good, can be defined as the one which is commonly enjoyed by all the people, i.e. each individual's consumption does not result in the sacrifice of another individual's consumption of that good.
So, these goods are the goods whose total production cost does not rise with the number of consumers. Hence, on the provision of public goods, the additional resource cost would be zero, if another person consumes it
Market Power
Otherwise called monopoly power. It is the firm's ability to profitably increase the price of the product over its marginal cost. Firms with market power are price makers and hence they can offer products at a price that gives them positive economic profits.
When there is excessive market power, it causes the sole producer or few numbers of producers to produce and sell comparatively less output than produced in a competitive market. This can make the markets inefficient, by keeping the price higher and the output lower.
Externalities
Simply put, an externality is when the consumption or production has an indirect impact on the other's consumption or production activity and these are not indicated in the market prices.
To understand the term 'externalities', let us take an example, suppose if people decide to switch to cold-pressed cooking oil from refined oil, this will automatically increase the demand for cold-pressed cooking oil, which will result in an increase in its price and so it will reduce the benefits of the existing consumers of the cold-pressed cooking oil.
So, it is a part of the price mechanism, which operates efficiently because market prices provide information to both the parties i.e. sellers and consumers. Although when the actions of consumers leading to costs or benefits which are not caused by market price, these are called externalities. These are named so because they are external to the market.
Incomplete Information
One significant element of a competitive market is complete information. In a perfect market, both buyers and sellers have full information as to anything that can influence their decisions. However, this is not always possible due to the given reasons:
Nature of products and services which are highly complex.
Many a time consumers are not able to quickly find the required information, relating to the best prices, and the quality of different products
Ignorance or unawareness of people concerning different matters in the market. Inaccurate or incomplete information also results in wrong choices.
Lack of information is present in different market exchanges which results in inefficient distribution of scarce resources and non-establishment of equilibrium price and quantity by way of the price mechanism.
A Word from Business Jargons
Market failures is a situation in which market do not act in a way that promotes competition and amounts to efficiency. Hence, it results in inefficiency of market outcomes, and so government intervention can improve the welfare of society, by introducing the legal and regulatory system that brings efficiency.