Definition: In simple terms, a marketing funnel is a funnel-like model that represents the path a customer takes, from discovering your brand until they buy your product. The basic marketing funnel has four stages that explain the customer's engagement with the brand:
Attention: It is the stage where the customer comes to know about you through a friend, a social media post or when they see your ad.
Interest: They develop an interest in your brand because they believe it can solve their problem.
Desire: After researching your brand's positive and negative points, the prospect gets the desire to buy from you and wants to convert.
Action: The prospective customer takes the necessary action, i.e. they buy your product, sign up for the newsletter, register themselves or take any other similar action you want them to take.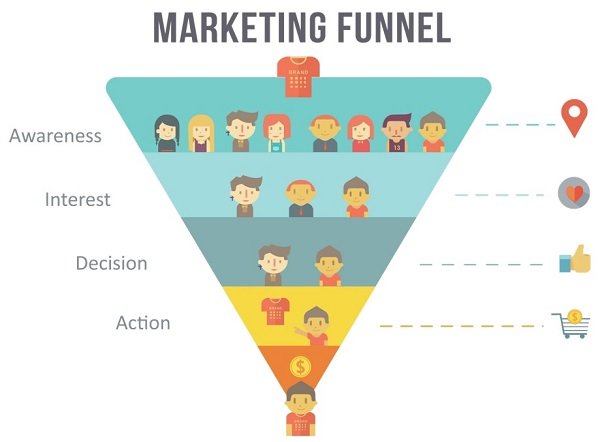 These stages can be simplified into three stages:
Top of the funnel (ToFu): Awareness Stage – The aim is to open up the funnel for the prospects to make a maximum number of people aware of your product or brand. Also, it talks about problems it is capable of solving.
Middle of the funnel (MoFu): Consideration (Interest) stage – It is the stage where the audience recognizes the problem and looks for solutions. Therefore, the aim is to draw their interest, encourage and convince them that your's product is the right choice.
Bottom of the funnel (BoFu): Conversion Stage – It includes both desire (willingness to buy) and action (actual buying) of the product. Thus, at this stage, the prospects turn out as customers. Such a stage is called the conversion stage or action stage. It involves convincing the customers to choose you and make them buy your product.
As per BJ Fogg, three elements must meet at the same time for the call to action behaviour. These are motivation, ability and prompt
Motivation
Different ways of motivating customers are:
Creating urgency or Fear of Missing Out
Developing a story that customers feel relatable
Ability
It defines the actual ability of the customer, i.e. whether or not he is able to take the desired action.
Prompt
It is the trigger or the cause that leads to an action. Alternatively, it is called a call to action.
Concept
A marketing funnel is a model that tells your customer's journey with your brand. This implies that the marketing funnel defines the various stages through which your customer passes. This helps the company make the right strategies which the company should adopt to influence customers at different stages and increase the conversion rate.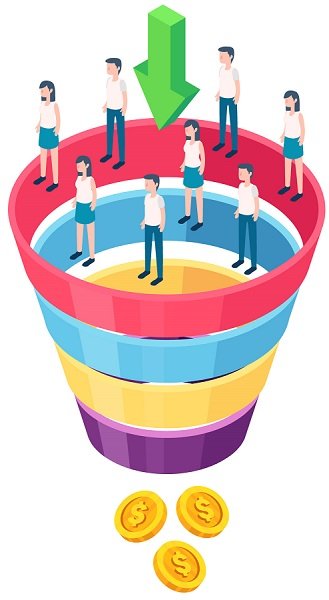 For marketers, it is a tool that guides them in envisioning the route the customers are likely to take. This route starts from being aware of your product or brand to converting leads into customers. Hence, it will provide data to the marketers about why some prospects turn into buyers and some exit. It is quite apparent that if marketers know why they lose customers, they can adjust their strategies to increase the conversion rate.
Important
: A marketing funnel cannot be the same for all marketers. It is tailored uniquely as per how your customer interacts with your brand. Further, the number of stages in your marketing funnel highly depends on your approach and your
consumer behaviour
.
So, the marketing funnel works as a complete system. Hence, every section has to perform its work effectively to make the journey successful.
The funnel depicts that the audience reduces as the journey proceeds. The company attempts to lessen the dropout, but some customers naturally exit at each stage.
Generally, the journey of the customer is complex. However, it offers a simplified framework for marketers to:
Understand the audience
Adjust their approach accordingly
Identify loopholes in the customer's journey, and
Review their marketing results.
Alternatively, it is known as a purchase funnel, customer funnel or sales funnel.
Stages of Marketing Funnel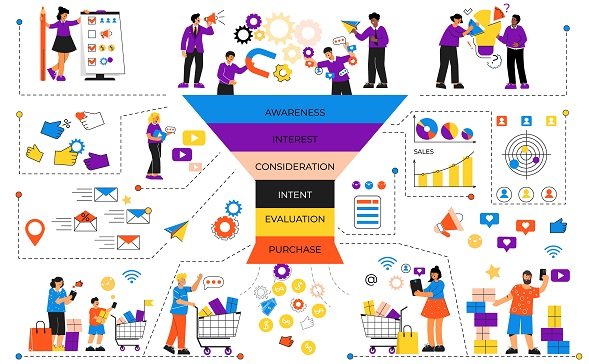 Awareness: It is quite obvious that before people engage with you, they must know that you exist.
Interest. Prospects perform research and gain more knowledge about your company and its products. He also looks for customer reviews.
Consideration: After becoming aware of your brand, they will consider purchasing. However, it requires numerous marketing touchpoints to stay connected.
Intent: Leads show their intent to purchase the product from you.
Evaluation: It is the stage where the buyer is ready to take the final decision, i.e. whether he wants to buy your product or not.
Purchase: The potential customer becomes ready to take action after going through various marketing touchpoints. For a successful conversion, the company can encourage customers by offering value and explaining to them how you can help them.
Loyalty: This is the stage when the brand or company deals with real customers. However, you must give them reasons to stay there and recommend others.
Advantages of Marketing Funnel
It defines the customer's journey, which is easier for enterprises to follow. It applies to every customer interaction.
Marketing Funnel helps marketers plan and monitor marketing efforts for attracting, engaging and converting prospects using content and ads.
Marketers gain insights into the customer's needs, optimize marketing strategies, and make more conversions.
It is a tried and proven method of developing a marketing strategy by dividing the customer's journey into various stages.
A word from Business Jargons
A marketing funnel is a roadmap that designs a prospect's journey to becoming a buyer. That is, it is a process used by businesses to convert prospects or website visitors into paying customers. In this, the audience size decreases with each step, which gives it a funnel-like shape.