Definition: Demand Forecasting is a systematic and scientific estimation of future demand for a product. Simply, estimating the sales proceeds or demand for a product in the future is called as demand forecasting.
There are several methods of demand forecasting applied in terms of; the purpose of forecasting, data required, data availability and the time frame within which the demand is to be forecasted. Each method varies from one another and hence the forecaster must select that method which best suits the requirement.
The methods of forecasting can be classified into two broad categories: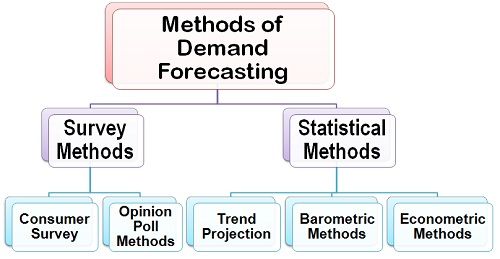 Survey Methods: Under the survey method, the consumers are contacted directly and are asked about their intentions for a product and their future purchase plans. This method is often used when the forecasting of a demand is to be done for a short period of time. The survey method includes:
Statistical Methods: The statistical methods are often used when the forecasting of demand is to be done for a longer period. The statistical methods utilize the time-series (historical) and cross-sectional data to estimate the long-term demand for a product. The statistical methods are used more often and are considered superior than the other techniques of demand forecasting due to the following reasons:
There is a minimum element of subjectivity in the statistical methods.
The estimation method is scientific and depends on the relationship between the dependent and independent variables.
The estimates are more reliable
Also, the cost involved in the estimation of demand is the minimum.
The statistical methods include:
These are the different kinds of methods available for demand forecasting. A forecaster must select the method which best satisfies the purpose of demand forecasting.