Definition: The Regiocentric Approach is an international recruitment method wherein the managers are selected from different countries lying within the geographic region of business.
In other words, the managers are selected from within the region of the world that closely resembles the host country.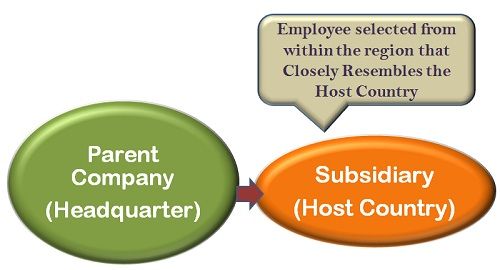 Advantages of Regiocentric Approach
Culture fit, i.e. the managers from the same region as that of the host country may not encounter any problem with respect to the culture and the language followed there.
Less cost is incurred in hiring the natives of the host country.
The managers work well in all the neighboring countries within the geographic region of the business.
The nationals of host country can better influence the decision of managers at headquarters with respect to the entire region.
Disadvantages of Regiocentric Approach
The managers in different regions may not understand the viewpoint of the managers employed at the headquarters.
There could be a communication barrier because of different languages.
The manager selected from a particular region may lack the international experience.
It may lead to the confusion between the regional objectives and the global objectives. The regional managers may only focus on accomplishing the regional targets and may oversee the impact on the firm as a whole.
The rationale behind the Regiocentric Approach is that the person belonging to the same region as that of the host country is well versed in the language and the culture that prevails there and would better understand the problems that arise in the market, as compared to the foreign counterparts.