Definition: Social Commerce is a subtype of e-commerce. The word 'social commerce' is a combination of two words, i.e. social media and e-commerce. It is the buying and selling of items by the shoppers directly while using their social media platforms.
In social commerce, users can complete the whole buying process without leaving the social media platform where they found the product. These social media platforms include Facebook, Instagram, Snapchat, TikTok, Pinterest, etc. That means from product discovery to checkout and billing occurs within social media platforms.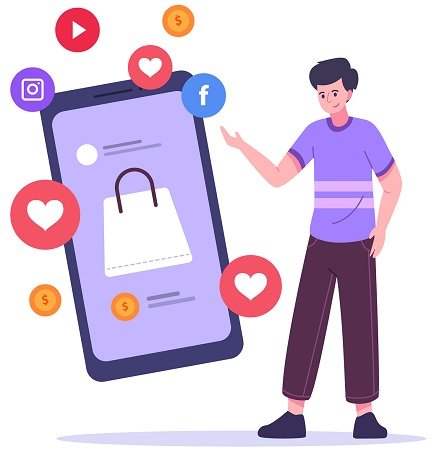 Do you know?
Over 92% of internet users access the internet via mobile devices. Moreover, the rate of cart abandonment is around 86%. Furthermore, there are only a handful of websites which are mobile-friendly. In such a scenario, social commerce comes into the picture.
The essence behind social commerce is using social networking websites to promote and sell products and services.
With the increase in the use of the internet and social media, the expectations of shoppers have also increased. Now shoppers want a detailed product description that covers the specification, working mechanism, instructions, video, etc. In short, shoppers would like to know the value they will get for their money.
Social commerce offers numerous opportunities to retailers to engage with consumers in a platform where they spend most of their time getting entertained, informed and inspired.
The marketplaces provided by the social media platforms do not redirect customers to the retailer's e-commerce store. That means they bring the store to the fingertips of the customers. In short, it eliminates all the unnecessary steps that make the buying process lengthy and complex. Hence, the customer finds the buying process smooth and convenient, and the retailer gets an increase in sales.
Activities Involved in Social Commerce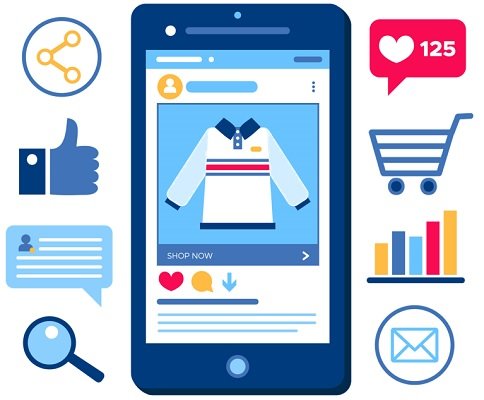 Discover brands
Research products
Customer Support Interaction
Buying Items
Checking out
Recommending products to contacts
Giving feedback and posting reviews
Getting customer support
Are social commerce and social media marketing different?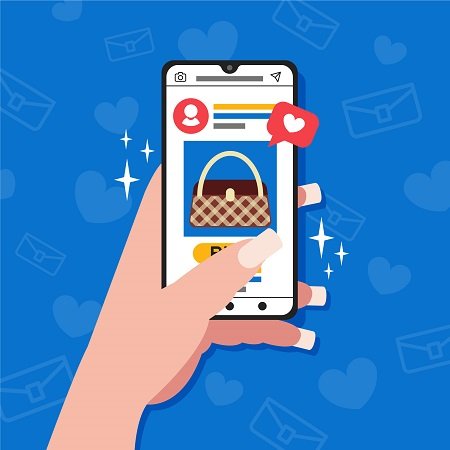 Social commerce varies from social media marketing in the sense that in SMM, the shopper sees the content on social media and clicks on the shop now tab to shop for that product. On the other hand, social platforms such as Facebook Shop and Instagram Shop are used in social commerce. In some cases, the item contains a link that directly leads to the specific product on the website, and in this way, the shopper can easily purchase the product.
Examples
Facebook Shop, Instagram Shop, Snapchat Store, etc., act as virtual storefronts where shoppers can browse, select and buy the item they want.
Features of Social Commerce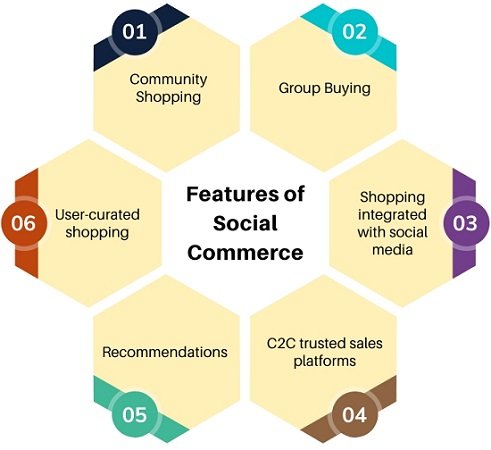 Community Shopping: Customers can chat with other customers or retailers on the chat to get the right advice and share their opinions and thoughts.
Group Buying: The customers can purchase products at low prices when more customers (friends or strangers) make purchases together.
Shopping integrated with social media: Customers can buy products on social media platforms through the shop now buttons.
C2C trusted sales platforms: Consumers can sell products from other consumers and talk to each other on C2C platforms.
Recommendations: Consumers can share, like, comment and recommend products.
User-curated shopping: Consumers can create a list of their favourite products from which their close friends can shop.
Mechanism of Social Commerce
Social Media giants like Facebook, Instagram, Snapchat, Twitter, TikTok etc., possess social commerce features that allow retailers to promote their products and services. With social commerce, customers get the opportunity to find the right product for them through their most used social media site.
Sources of Social Commerce
E-commerce: It emerged from e-commerce. E-commerce started gaining popularity in the 20th century. Hence, social commerce relies on e-commerce, which means that in the absence of e-commerce, social commerce is just a concept which does not apply to commercial activities. E-commerce provides the Information Communication and Technology foundation to social commerce.
Social Shopping: It is the prototype of social commerce prior to social networking on the basis of the availability of the Internet. In this, the shopping experience is shared with the social network of friends and acquaintances.
Key Facts
YAHOO proposed the concept of social commerce for the first time.
Around 64% of digital buyers discover brands/products through social media.
Every 1 out of 3 consumers finds out products categorized by what's trending in their social circle.
About 67% of social media users want to try a new product or brand if their favourite influencer promotes it.
40% of shoppers perceive live streaming as a complement to a mesmerizing shopping experience.
Benefits of Social Commerce
Reaching new customers in a budget-friendly manner
Developing and maintaining relationships with customers while collecting data and feedback.
Engaging with the customers in a place where they spend most of their time.
Insights and analytics can be measured with every campaign.
Enabling customers to communicate with their friends, post comments, give ratings and reviews based on their experience and engage with brands.
Elimination of friction points and accelerating the process from discovery to check out.
Challenges of Social Commerces
Establishing a right content strategy
Identifying the right audience for the campaign
Rules, regulations and privacy issues
Brand safety and authenticity
Product prices controlled by social networks
Creating shoppable content.
A word from Business Jargons
Simply put, social commerce is the process of selling products directly via social media sites. It streamlines the process, and transactions are complete within a few clicks, which reduces the likelihood of dropoffs. The main component of social commerce is the direct interaction between retailers and customers.
So far, social commerce has emerged as the most convenient shopping experience to the customers. This is because it eliminates the complexity of finding products by typing the keywords on the search box of the online shopping app. Rather, the entire shopping process takes place on the social platform.