Definition: A unicorn company is a private startup firm whose valuation crosses the 1 billion dollar mark in early years without going public, i.e. without listing the stocks on a stock exchange.
The worth of the unicorns is not directly associated with their present financial performance; rather, it highly depends on their growth potential discerned by the angel investors and venture capitalists. They also take part in several funding rounds to get the funds for operations.
Becoming a unicorn company is the dream of every startup business, especially tech startups. The term 'unicorn' company is quite commonly used in the venture capital industry. However, achieving the status of a unicorn company is rare.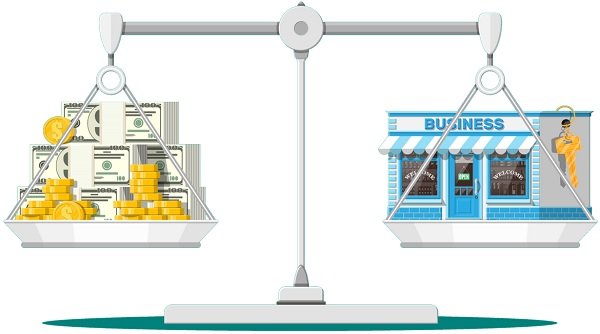 To become a unicorn, the start-up business must have a unique idea, an effective business model, a vision for growth and an effective way of communicating their message to the VCs and private investors.
Examples
Unicorn Companies across the world:
SpaceX, Canva, OpenAI, SHEIN, Instacart, Alphabet, Facebook (now Meta), Reddit, Talkdesk, Fireblocks, SumUp, Bolt, Gemini, DataRobot, 6Sense, etc.
Unicorn Companies in India:
Flipkart, Byjus, Sharechat, Urban Company, Physics Wallah, Purplle, PharmEasy, Dream11, Unacademy, Cars24, Oyo, Swiggy, Ola, etc.
Key Terms
The company whose valuation is:
Over 1 million dollars is 'Minicorn'.
Between 1 million to 99 million dollars is 'Sonnicorn'.
Over 1 billion dollars is 'Unicorn'.
Over 10 billion dollars is 'Decacorn'.
Above 100 billion dollars is 'Hectocorn'.
A startup company that became Publicly Listed or any Publicly Listed company acquires it is 'Graduated Unicorn'.
A startup company that loses its Unicorn status due to a decreased valuation is 'Former Unicorn'.
Did you know?
Venture Capitalist Angel Investor Aileen Lee used the term 'unicorn company' for the very first time. She is the founder of Cowboy Ventures, based in Palo Alto.
Features of Unicorn Company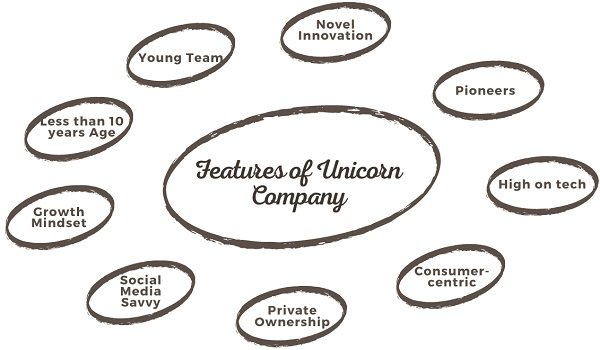 Novel Innovation: Almost all the unicorn companies so far have come up with a novel idea in the field they are in.
Pioneers: It has been observed over the years that unicorn companies are the pioneers in their industry. They identify the need and change people's way of doing things.
High on tech: In 2013, VC Aileen Lee stated that the most common aspect that unicorns share is their strong tech component. It implies that they depend on technology for maximum part of their business process.
Consumer-centric: Not all, but most of the unicorn companies are consumer-oriented B2C companies. This is because they focus on easing the way they do things earlier.
Private Ownership: Unicorns are privately owned enterprises whose valuation increases when a renowned company invests in it.
Social Media Savvy: For connecting with the target audience and making a digital footprint, unicorns use social media platforms like Twitter, Instagram, Snapchat, Facebook, Pinterest and Linkedin. It allows them to reach a wide range of audiences within a short span of time.
Growth Mindset: Profit is obviously a motivation for entrepreneurs. But they also look to scale their business. To achieve this, they should have an effective and workable business plan, a scalable business model and a growth mindset. Scalability and Internationalization of business is their primary objective since inception.
Less than 10 years Age: One should note that unicorn companies have a common feature and that is they began their operations less than 10 years ago.
Young Team: Unicorns generally possess a young, energetic, and modern team, wherein creativity is given the top priority.
Exit Alternatives for Unicorn Company
Unicorn Companies have three alternatives to choose from. This may include:
Remaining Private: Startup founders who would like to keep the control in their own hands often choose to remain private. However, this option puts a limit on their growth potential because, at the end of the day, they must have sources to provide a return on investment to the funders.
IPO: An Initial Public Offering or IPO is a good option to raise funds by going public. However, not every unicorn founder chooses to go public because it implies dilution of ownership.
Approaching a buyer: Startup founders can also approach buyers in order to realize their goals sooner.
A word from Business Jargons
Unicorn Companies have novel products that operate in different sectors like e-commerce, finance, healthcare, technology, etc. No startup company turns out a unicorn overnight. Becoming a unicorn takes hard work, perseverance and commitment for a company to get a higher valuation.