Definition: Virtual Marketing is an alternative term for digital marketing or viral marketing. When marketing is undertaken in a virtual or digital space, it is virtual marketing. It involves the use of the internet and related technologies for achieving marketing goals and objectives. So, marketing activities are performed through the internet.
Marketing is an advanced methodological science. The rules are continuously changing as per the needs and improvements that occur in and around it. Do you guys know that marketers use a number of tools, channels and information online to build relationships, tap various opportunities and also for creating a brand identity?
Virtual Marketing has the potential to market products and services in the digital environment.
It uses data for marketing products and services to the target audience by way of online marketing strategies. It makes use of digital techniques for strategically promoting products and services offered by the business.
Conventional forms of marketing make use of print media or broadcast media, to gain the attention of a large group of people. But virtual marketing can target customers with customised messages and ad designs in order to get the desired response in the form of orders.
Advantages of Virtual Marketing
Increase in Traffic
Focuses on the visibility of the firm
Growth in income
No geographical limitations
Creation of customer database
No need to manipulate manpower
Spread your voice
Inexpensive which saves time
Keeps an eye on competitors' moves, techniques and strategies
How to boost engagement with Virtual Marketing?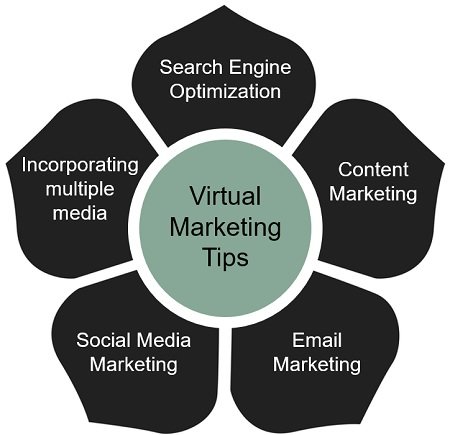 Search Engine Optimization
SEO is the process of intentionally improving the quantity as well as the quality of organic traffic to your website. An increase in traffic means, you have a higher chance of engaging with them.
Content Marketing
Virtual Marketing revolves around creating and circulating relevant and impactful content. This content is created for prospective customers. This also helps in obtaining relevant data about the customers by keeping a track of the pieces of content they interact with. With this, marketers can paint a full picture of every person's interest. It may include:

Webinars
E-Books
Blog Posts
Infographics
Podcasts

Email Marketing
This is among the most common and effective techniques of marketing. Our emails get tens and hundreds of messages in a day. So, marketers can strategize to send targeted, tailored and interesting emails, in order to get the attention of the user.
Social Media Marketing
Social media platforms like Facebook, Twitter, Instagram, LinkedIn, Snapchat and much more help firms in interacting with their audience and get more traffic. They also help in increasing brand awareness. For doing this, companies often make use of different ways like contests, polls, giveaways, collaborating with influences, video content, etc. so as to drive more traffic.
Incorporate a Variety of Media in Promotions
At the time of building engagement, you should remember that different people respond better to various media types. This means that rather than relying on text and images, a marketer can also integrate videos and GIFs etc to get better results.
Importance of Virtual Marketing to Buyers
From the buyer's point of view, virtual marketing has the potential to facilitate assistance to the buyers in making the right buying decision. Marketers offer a range of products which are closely identical to one another or there are instances when the buyer may experience difficulty to evaluate and comparing the attributes. In such a situation, virtual marketing helps in handling consumer questions and encourages the right and unbiased choice.
In this regard, artificial Intelligence based system helps in identifying the right alternative. These systems use collaborative filtering of the choices entered and provide the right options. This results in making the right choice.
Wrap Up
All in all, virtual Marketing is one of the much-in-demand marketing right now. It is commonly used by all firms. With virtual marketing, the marketer can reach wherever the customers are, and keep an eye on what they are seeking and what they prefer.