Definition: Gig Economy is a group of the market that connects service providers to consumers on a gig, i.e. per job/task basis. It implies a labour market wherein numerous individuals are employed on a part-time basis or where freelance work persists, instead of conventional full-time work. Even organizations look for independent contractors, on-call workers and freelancers to work with them.
It includes all such platforms that hire gig workers to work in different sectors like food and beverages, groceries, e-commerce, information, technology, content development, etc.
Irrespective of the industry in which the gig worker is employed, small tasks are given to them, which they have to complete to get compensated.
Characteristics of Gig Economy
The characteristics of the Gig Economy are discussed hereunder: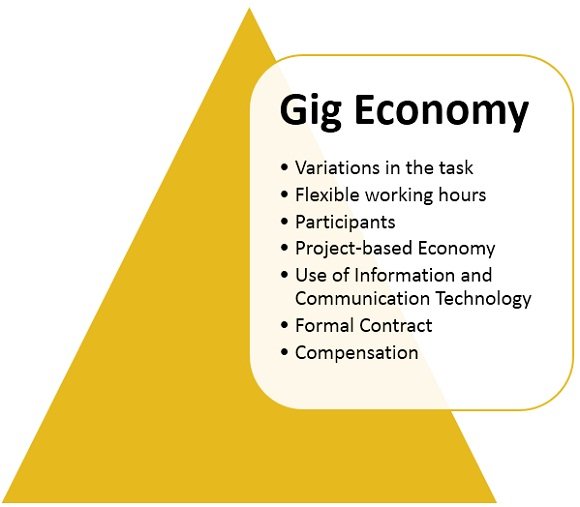 Variations in the task: The tasks may vary from delivering a certain item, to riding someone to a destination.
Flexible working hours: The working hours of a gig worker are not defined. So, they can choose the shift at their convenience.
Participants: It involves two participants, i.e. the service seeker also called a consumer with a demand for a particular task and a service provider or gig worker who undertakes the task to earn money.
Project-based Economy: It is a project-based economy that facilitates the service adopter to eliminate overhead costs and the gig worker gets paid for the particular task performed.
Use of Information and Communication Technology: Such an economy makes use of information and communication technology to connect the consumers and the gig workers, so that they can hire services for a short period.
Formal Contract: Gig workers enter into a contract with on-demand companies so as to render services to the company's customers or clients. And the prospective client requests the services via a website or application facilitating them to search for the service providers, i.e. gig workers. When the request is approved by the gig worker, they provide the service, on behalf of the company and get compensated for the same.
Compensation: Gig Economy is an economy which encompasses temporary contractual job, freelance work or short term contracts, undertaken by individuals, typically on a project-to-project basis, and the payment is made when the project or task assigned to them is finished.
Components of Gig Economy
Gig Economy comprises three main components: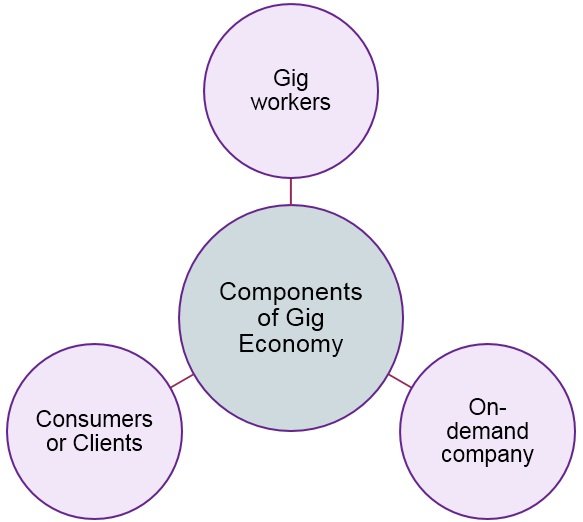 Gig workers: Independent workers paid on the basis of task or job. Gig Workers include part-time workers, self-employed, freelancers, independent contractors, etc.
Consumers/Clients: Individuals who need the specific services. For example, Food to be delivered.
On-demand company: Companies that directly connects gig worker and consumer, either through a website or application. Uber, Ola, Zomato, Swiggy, Airbnb are some common examples of such companies. The role of an on-demand company is just like an intermediary through which the worker reaches and ultimately paid by the consumer. Hence, it helps the gig workers in getting a quick and short term job.
Gig Economy can be found in a number of occupations like taxi drivers, food deliveries, goods courier, cleaners, web developers, creative designers and so forth. It is a vast and diverse system, due to which it is very difficult to impose regulation to work effectively.
Classification of Gig Economy
It can be mainly classified into:
Service-based gigs: It is composed of low to semi-skilled workers, including delivery agents and also those who offer services through work on-demand platforms like plumbers, carpenters, taxi drivers, etc.
Knowledge-based gigs: It involves semi to high skill work like consultants, developers, designers and data scientists.
Reasons for the promotion of Gig Economy
With the emergence of the digital age, now people can work from any place and at any time.
Short term contracts facilitate the firm to avoid long term commitments such as gratuity, pension, etc.
Advancement in technology has reduced human effort, also adds to the gig economy.
A dynamic business environment also induces the company to hire short term labours.
Saves training time and increases the operational efficiency of the organization.
Freedom of work, as the workers can work at their own pace, as there are no fixed working hours and employment policies. Also, they can select the work, they want to do.
A Word from Business Jargons
Gig Economy is an on-demand, a task-based economy that entails the exchange of labour for money amidst individuals and the activities are coordinated via a digital platform, i.e. it connects the service providers to the customers, on a short term basis. It signifies a free market system in which temporary and flexible jobs can be found.