Definition: Influencer Marketing is a trending form of marketing that most brands use to promote their products by collaborating with social media influencers. It involves endorsements and product mentions from influencers. Companies often ask these influencers to promote their products on their social media page to get the attention of their followers.
For a follower, an influencer is an opinion leader whom they can trust regarding information.
As the name suggests, in influencer marketing, companies partner with individuals with good followers on social media for increased brand exposure.
Such marketing depends on the trust of the followers, which the followers have in the social media influencer. The influencer gains trust over the years by providing value and quality content.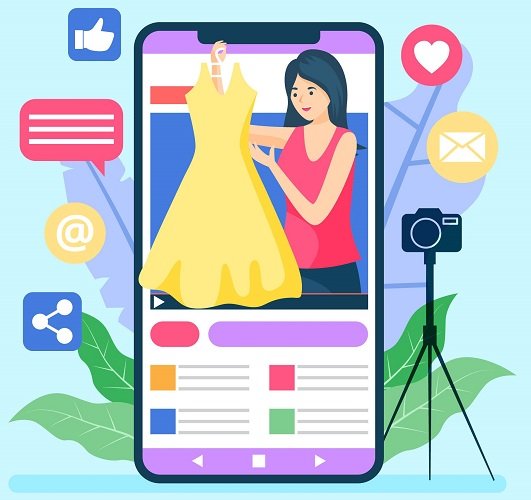 There was a time when there were only a few celebrities and personalities who used to rule social media via influencer marketing. Nowadays, every third person on social media is an influencer on social media.
Influencer marketing strategy involves determining which influencer would be most appropriate to match your company's requirements.
For Example, If the company deals in smartwatches, then the company must look for influencers who talk about tech gadgets and devices. In this case, all the influencers' followers are interested in new-age technology and products, and they would like to hear from the influencer about your product, too. However, you can't expect the same results from the influencer who promotes skin care products.
After identifying the best influencer for your product, you can offer them the partnering proposal. In this deal, you can state that they will get a commission on all the products and services they sell.
Types of Influencer Marketing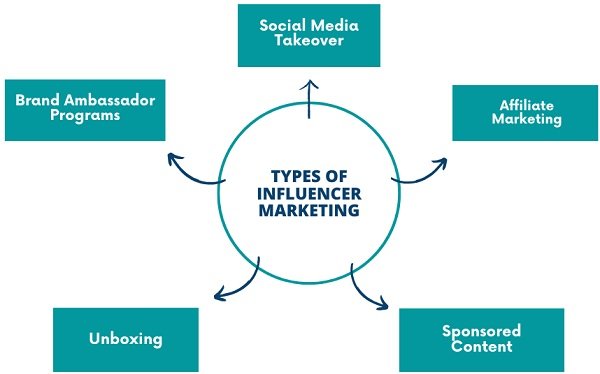 Social Media Takeover: In this form of influencer marketing, the brand lets the influencer operate or manage their account for an agreed period of time, say a day or a week.
Affiliate Marketing: In this form of influencer marketing, the affiliates, i.e. marketers, join the affiliate program run by the brand (advertiser) and promote the advertiser's products on his/her own profile. Further, the affiliates get a certain percentage of sales as a commission for promoting the products.
Sponsored Content: You might have seen such marketing on Instagram, Facebook and YouTube. The brands pay the influencer for publishing promotional content on their account.
Unboxing: In this marketing, popular brands send gifts to the influencer in the hope that they will be opened and reviewed by them on social media. This will give an instant boost to their sales. Sometimes, this strategy backfires as the influencer might not review or may also give negative feedback.
Brand Ambassador Programs: Some influencers have a special liking towards a particular brand and can promote these brands free of cost. Hence, they join brand ambassador programs.
Who are Social Media Influencers?
Social Media Influencers are those personalities or, we could say, internet celebrities who have a sizable fan base or following and have built a reputation in a specific field.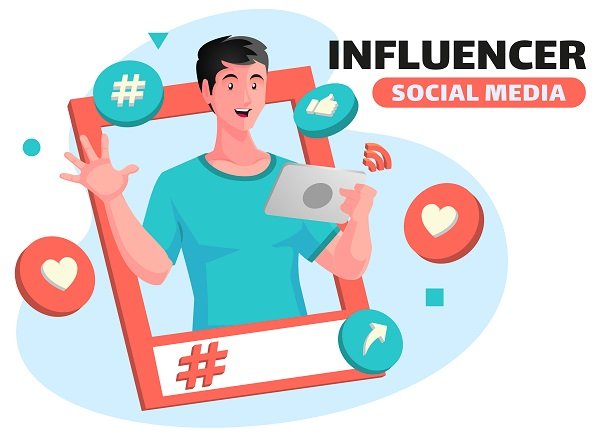 They are the ones who show the expert level of knowledge and social influence in the concerned niche. In a nutshell, a social media influencer is someone who displays their influence through social media.
Example: An influencer can be a makeup artist on Instagram, a Spokesperson of a political party on X previously Twitter, a hiring manager on Linkedin, or a Tech enthusiast on YouTube.
Types of Influencers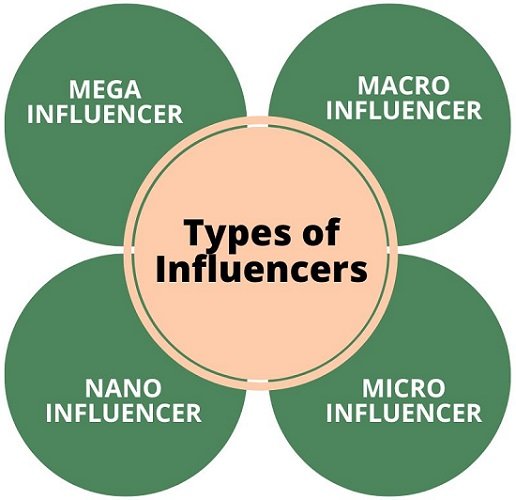 Mega or celebrity influencers: Influencers with over 1 million followers are mega influencers. It includes famous actors, famous personalities, musicians, athletes, politicians and public figures. For Example, Amitabh Bachchan, Virat Kohli, Alia Bhatt, etc. Collaborating with mega influencers can help your brand get matchless exposure. However, this may increase the expense of the company.
Macro Influencers: It covers influencers with a following of around 1 lakh to 1 million. This category may cover those people who are well-known personalities in their field. Such influencers have gained popularity over time by creating quality content.
Micro-Influencers: An influencer with around 10,000 to 100,000 followers is a micro-influencer. They are emerging influencers. Such influencers strive to mark their presence and increase their fan base on social platforms. Marketers look for these influencers to collaborate with them, as they are quite cost-effective.
Nano Influencers: Influencers with less than 10K followers are called Nano Influencers. These influencers stay connected with their audience. However, they have a smaller reach. But they are excellent partners for companies with low budgets.
Benefits of Influencer Marketing
Credibility and Trust: Back in the day, we used to try new products, be it tea or detergent, which our close ones recommend to us, as they have tried them already and we trust them. In this fast-paced world, people spend most of their time using smartphones, especially social media, in their free time. That is when influencer marketing comes into the picture. Because people trust and follow these influencers, any recommendation from them is important. Hence, it increases the credibility and trust of the company.
Cost Effective: Partnering with the right influencers may generate significant returns for the company. It is actually less expensive than promoting a product over television.
Generating quality leads: Are you also one of those who skip ads as they pop up or use an ad blocker for an uninterrupted view experience? So, like us, most people do the same thing, but at the same time, we all love to take advice from our favourite influencers. Through influencer campaigns, companies can target an audience interested in their product and willing to buy it. This ensures a higher conversion rate.
Boost brand awareness: By collaborating with the influencers, the company gets an effective reach of targeted audience.
Suits all kinds of businesses: There is a wide range of influencers present across social media, from health, fitness, travelling, business, science, technology, skincare, finance, cuisine, etc. Irrespective of the business size and industry, you can find the influencer which suits your needs in the best way.
A word from Business Jargons
This marketing strategy is one of the most successful methods for reaching the marketing objectives and reducing the overall advertising expenses.