Definition: Money refers to an economic measure that acts as a commonly accepted exchange medium, to pay for goods and services, repay debts, and settle various transactions. Further, those exchanges which are carried out without the mediation of money are called as a barter exchange.
In finer terms, money is a man-made creation, which is introduced with an aim of overcoming the difficulties of barter exchange.
Stages of Evolution of Money
There are four different stages through which money has passed, on the basis of the development of human civilization, which are discussed hereunder: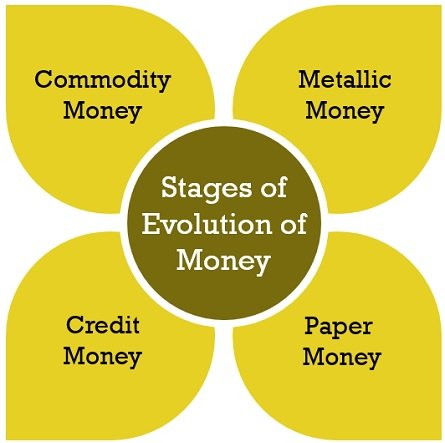 Commodity Money: Different types of commodities are used as money, at the initial stage of human civilization, which includes stones, spears, bows and arrows, axe, etc. During the hunting stage, the skin of wild animals is used by people as money whereas, in the pastoral society, people used livestock as money, and in an agricultural society, foodgrains were used as money.
Metallic Money: In the next stage, metallic money was introduced and so metals like gold, silver, copper, iron, tin, etc are used by people in their raw form as a medium of exchange, especially for the purpose of international trade between countries via land and sea. However, it was difficult to weigh, divide and check the quality of metals, which led to the emergence of metallic coins in the form of money.
Paper Money: Paper money evolved to replace metallic money. It is the legal tender of the country, which is generally accepted as a means of exchange throughout the country. In India, the central bank, i.e. Reserve Bank of India issues currency notes of all denominations, except one rupee note, which is issued by the Ministry of Finance. Simply put, all currency notes be they are issued by banks or by the government comes under paper money.
Credit Money: Also called bank money, it implies the money deposited by people with banks which can be withdrawn at any time or transferred to another person using cheques. This eliminates the inconvenience of carrying paper money from one place to another. Credit money is issued by banks such as cheques, demand drafts, pay order, bill of exchange, treasury bills, etc.
Functions of Money
Money performs the following functions: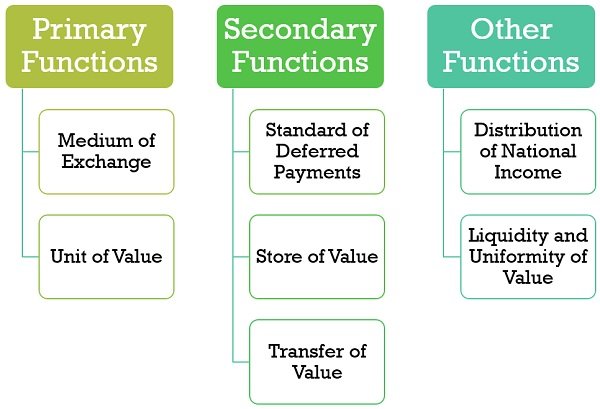 Primary Functions
Under primary function, money is thought of as a passive tool, which performs the following functions:
Medium of Exchange: As a medium of exchange money can be used as a means which can be paid as a consideration to settle the transaction. In this way, money facilitates the process of exchange, by separating the transaction into two parts, i.e. sale and purchase, which removed the inconvenience of double coincidence of wants.
Unit of Value: Money helps in measuring the value of goods and services, in price. So, it has significantly eliminated the confusion that pops up due to the measurement of the value of good or services in relation to other goods and services.
Secondary Functions
Under secondary function, money is thought of as a dynamic tool, which carries out the following functions:
Standard of Deferred Payments: Deferred Payments, i.e. those payments which are to be made in the coming time that typically arises in case of borrowing and lending. It can be used as a method to make payments in the future, due to its universal acceptability. Moreover, its value remains comparatively constant, as well as it is more durable, in comparison to other goods.
Store of Value: Money is a highly convenient and easiest way to store wealth, which does not lose its value over a period of time. And as a medium of exchange, it can be used to buy goods and services. Hence, if you have the money, you have the purchasing power. In other words, the value of goods is stored in the money that you possess.
Transfer of Value: Money can be easily transferred from one place to another and from one person to another. People can either transfer money physically or digitally or they can use plastic cards to withdraw money anywhere.
Other functions
Apart from the above two functions, money performs other functions also which are:
Distribution of National Income: Various factors of production i.e. land, labour, capital, and entrepreneur, are engaged in the process of production to generate income. To supply these services to the firms, the owners of factor services get factor incomes in the form of rent, wages, interest and profit. In this way, money helps in the distribution of national income to all sectors.
Liquidity and Uniformity of Value: One can easily carry money and it can also be divided into small units according to the requirement of a person. It is liquid in the sense that it can be withdrawn from the bank anytime, whenever required. Further, it brings uniformity in the value of commodities that cannot be compared, as their measurement units are not the same.
Points to Remember
Government creates physical money which comes in two forms, i.e. currency notes and coins.
Seigniorage is the profit that the government makes by issuing currency, i.e. it is the difference between the face value of notes and coins and their cost of production.
The government does not create more money, to keep inflation in control, because the more money in circulation, the less will be the value of money.
Inflation is nothing but the loss in purchasing power of money over a period of time.
A Word from Business Jargons
In an economy, money plays a vital role, as it is central to all economic activities. In fact, whether it is economic welfare or economic development of a country, or, the wealth of an individual, everything is measured in monetary terms