Definition: Procedure, refers to a comprehensive set of instructions that prescribes a certain way of performing a process, or part of a process, in relation to time. It states a chronological sequence for undertaking activities, so as to achieve the objectives.
The procedures are meant for insiders (members of the organization including employees, directors, managers and workers) to be pursued. They are also popularly known as the term Standard Operating Procedure (SOPs). It states exactly what course of action is to be followed by an employee in a specific circumstance.
Characteristics of Procedure
Procedures are operational guidelines, reflecting the way in which policies can be implemented. A company's policies and procedures are interconnected to one another, which are to be undertaken within a general policy framework. The salient features of procedures are discussed as under: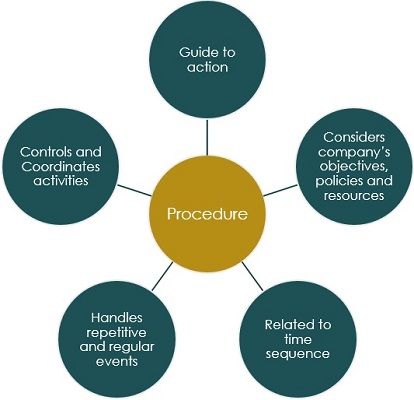 Acts as a guide to action.
Defined keeping in view the company's objectives, policies and resources.
Related to the time sequence for the work to be performed.
Meant for handling repetitive and regular events effectively.
Relevant for controlling and coordination of activities.
Procedure suggests particular beginning and endpoints which are required to be pursued in an exact manner to efficiently and satisfactorily carry out a task.
Importance of Procedure
Upcoming points will discuss the importance of procedures:
It defines the manner in which work is to be carried out and eliminate all the irrelevant or repetitive steps.
It ensures a high level of uniformity in tasks, and consistency in the decisions which helps in avoiding chaos.
To undertake any task in an effective manner, the procedure suggests the ideal ways and methods.
It facilitates in eliminating or reducing errors or accidents.
It assists in the successful completion of the work assigned in a timely manner.
Procedures specify the base for evaluating the performance of the workers or employees. In this way, it ensures executive control over the performance of employees.
It saves time, efforts and money because it states the standard ways for doing things.
The procedure is a component of planning which handles the "how" and "when" aspect, i.e. it specifies the way in which work is to be performed and the right time for performing it.
Limitations of Procedure
As every coin has two sides, the procedure also has some limitations. As a standard way is prescribed for performing the task, it constrains the scope for innovation or improvement in performing the work.
Example
A firm develops procedures for various activities like purchasing, issuing raw materials from stores, recruiting employees, conducting meetings, handling grievances, granting loans to employees resolving customers issues, dealing with clients, granting leaves to employees, etc.
Basically, there is a definite procedure for each repetitive activity in a business concern.Come let's discuss some examples:
Procedure followed for purchasing raw materials:
Request made by the storekeeper to the purchasing department
Inviting tenders for purchase of materials
Selecting the suppliers
Placing the order with the selected suppliers
Inspection of materials purchased
Payment made by the accounts department
Procedure followed for recruiting employees:
Inviting applications through advertisements on various platforms.
Screeing of the employees, through the CV or resume, received for the post.
Shortlisting the candidates and inviting them.
Conducting a written test.
Conducting an interview for the candidates who clear the written test.
Medical test for those who are selected in the interview round.
Candidates who pass the medical test successfully are sent joining letter.
Simply put, the procedure is a well-defined method of completing a task, which embraces a series of steps to be undertaken while performing a course of action to undertake a repetitive task in a uniform as well as consistent manner.
Procedures can be reviewed and revised on the basis of past incidents and behaviours.