Definition: Benchmarking, is a tool of strategic management, that allows the organization to set goals and measure productivity, on the basis of the best industry practices. It is a practice in which quality level is used as a point of reference to evaluate things by making a comparison.
The process helps in comparing and gauging the processes, programs, strategies and performance metrics with the standard measurements or to other similar companies. It is concerned with the analysis of three major dimensions:
It is a useful technique for enhancing the organisation's performance by identifying and implementing the finest process and practices, for achieving them.
The process involves repeatedly evaluating the aspects of performance with the similar measurements of its peers, identifying the gaps, discovering new methods for filling gaps and also for excelling the condition, so that the gaps might prove positive for the organisation.
Types of Benchmarking
There are two types of Benchmarking, discussed as under: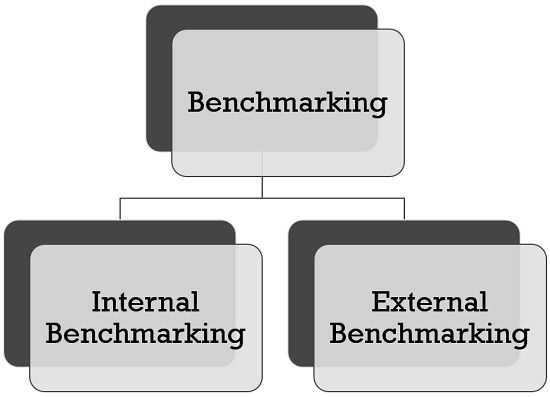 Internal Benchmarking: When measurement and comparison of key operations between teams, groups and individuals are made within the organization, the benchmarking is said to be internal.
External Benchmarking: When measurement and comparison of key operations are made with the competitors, then, it is called as external benchmarking.
Further, the process is sub-classified as:
Process Benchmarking
Performance Benchmarking
Strategic Benchmarking
Application of Benchmarking
The process entails looking outside the organization to study what others do to achieve their performance level and also the processes they use. So, the approach helps in determining the processes behind the exceptional performance. It can be applied in the following areas:
Human Resource Management
Product Development
Product Distribution
Maintenance Operations
Plant utilisation levels
Customer Services
Process of Benchmarking
Identifying the need for Benchmarking
Understanding the existing process and practices
Obtaining support and approval from the top management.
Identifying best practices.
Making a comparison between the firm's processes and performance with those of rivals.
Preparation of report, regarding the differences in standard and actual results.
Implementing steps necessary for filling gaps in performance.
Evaluation and review
Benchmarking does not provide a solution to all the problems rather it analyses the situations and processes and helps in improving the performance.
It is a continuous improvement process. Hence, the benchmarking exercises are applied appropriately and performed regularly, so as to gain competitive advantage and also refining performance in the major areas of business.
In this process, a firm's major operations are measured and compared with the rivals and acknowledged leaders of the industry.