Definition: The Expansion Strategy is adopted by an organization when it attempts to achieve a high growth as compared to its past achievements. In other words, when a firm aims to grow considerably by broadening the scope of one of its business operations in the perspective of customer groups, customer functions and technology alternatives, either individually or jointly, then it follows the Expansion Strategy.
The reasons for the expansion could be survival, higher profits, increased prestige, economies of scale, larger market share, social benefits, etc. The expansion strategy is adopted by those firms who have managers with a high degree of achievement and recognition. Their aim is to grow, irrespective of the risk and the hurdles coming in the way.
The firm can follow either of the five expansion strategies to accomplish its objectives: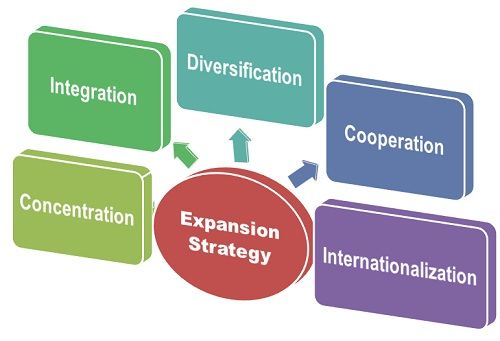 Go through the examples below to further comprehend the understanding of the expansion strategy. These are in the context of customer groups, customer functions and technology alternatives.
The baby diaper company expands its customer groups by offering the diaper to old aged persons along with the babies.
The stockbroking company offers the personalized services to the small investors apart from its normal dealings in shares and debentures with a view to having more business and a diversified risk.
The banks upgraded their data management system by recording the information on computers and reduced huge paperwork. This was done to improve the efficiency of the banks.
In all the examples above, companies have made significant changes to their customer groups, products, and the technology, so as to have a high growth.