Definition: The Retrenchment Strategy is adopted when an organization aims at reducing its one or more business operations with the view to cut expenses and reach to a more stable financial position.
In other words, the strategy followed, when a firm decides to eliminate its activities through a considerable reduction in its business operations, in the perspective of customer groups, customer functions and technology alternatives, either individually or collectively is called as Retrenchment Strategy.
The firm can either restructure its business operations or discontinue it, so as to revitalize its financial position. There are three types of Retrenchment Strategies: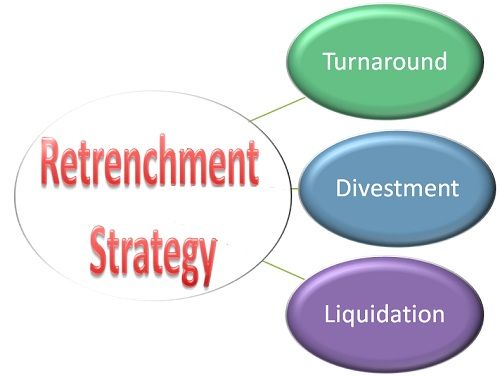 To further comprehend the meaning of Retrenchment Strategy, go through the following examples in terms of customer groups, customer functions and technology alternatives.
The book publication house may pull out of the customer sales through market intermediaries and may focus on the direct institutional sales. This may be done to slash the sales force and increase the marketing efficiency.
The hotel may focus on the room facilities which is more profitable and may shut down the less profitable services given in the banquet halls during occasions.
The institute may offer a distance learning programme for a particular subject, despite teaching the students in the classrooms. This may be done to cut the expenses or to use the facility more efficiently, for some other purpose.
In all the above examples, the firms have made the significant changes either in their customer groups, functions and technology/process, with the intention to cut the expenses and maintain their financial stability.