Definition: Retail Banking is a form of commercial banking wherein service is provided to the retail (individual) customers for non-entrepreneurial purposes. In banking, the term 'retail' signifies, that the consumer avails banking products for personal use, wherein the consumer is the customer of the bank and the products are the services that a bank offers to its customers. It is also known as consumer banking.
In short, retail banking is when commercial banks deal with individual customers, irrespective of the side of the balance sheet. This means that fixed, current/savings accounts on the liabilities side and mortgages and loans on the asset side. There are a large number of rural, semi-urban, and urban branches of a bank that provide retail banking.
The facility is specially designed to take care of the personal financial needs of the retail customers, who are nothing but a part of the general public for everyday spending. Hence, we can say that retail banking is the primary face of the banking which general public deals with. It is a means of managing money, such as the customers can have access to credit as well as deposit their funds securely.
It is that part of the bank which is visible to all. The products and services are provided through physical brick-and-mortar branches and through ATMs which can be found everywhere. Moreover, the delivery model of retail banking is not confined to the traditional branches and ATMs, rather it expands to the internet and mobile too.
Characteristics of Retail Banking
The three main characteristics of retail banking are: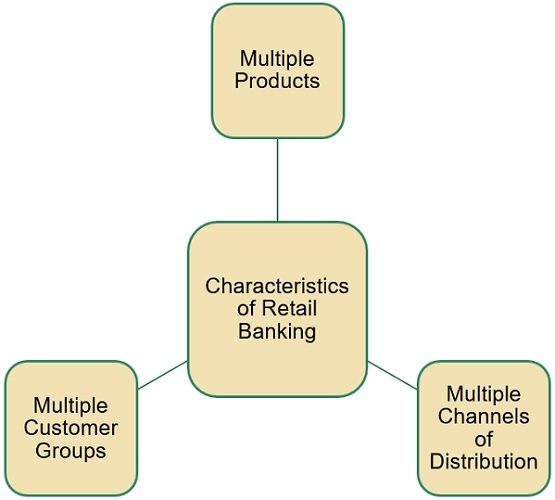 Multiple Products: In retail banking, commercial banks offer products like deposits, credit/debit cards, insurance, investments, and securities to the customers.
Multiple Channels of Distribution: With the emergence of technology, a range of channels of distribution has come into being like 24/7 customer care, kiosk, bank branch, internet/mobile banking, etc.
Multiple Customer Groups: Retail banking has a huge customer base that includes various groups of customers, including consumers, small businesses, and corporates. Hence, a large number of transactions take place on a daily basis.
Now, you must be wondering, what a retail bank gets? So bank gest fees for providing these services. The fees earned by banks at the time of extending these services to the general public include:
Retail loan processing fees
Credit card and debit card fees
Transaction banking fees
Fees from distribution of their party products
Types of Retail Banking
Retail banking is targeted at individual customers, by focusing on the mass market segment. That is to say, it offers generalized products and services, which target a wider population. It is classified into two types:

Mass Retail Banking: It can be understood as that type of retail banking in which standardized banking products and services are offered to a large customer base. At this stage the aim of the bank is to develop a large customer base, to ensure a stable source of funding. When it comes to volume the number of transactions is large in retail banking but the amount per transaction is small in mass retail baking.
Class Retail Banking: This is another type of retail banking, in which customized products and services are offered to a niche customer segment, which encompasses high net worth individuals, as they are the primary source of business to banks.
Key Dimensions of Retail Banking
Customer Focus
Prudent Risk Management
Convenience of Customer
Widespread distribution network
Variety of Products
Strong Processes
The services can be offered through offline and online modes, i.e. when a customer chooses offline mode, he/she has to visit the nearby branch or kiosk center for availing the facility, whereas in online mode, the customer can avail different facilities any time and anywhere using the internet or mobile banking.
Retail Banking Products
There are end number of retail banking products which are offered by banks. These are divided into three main categories:
Retail Deposit Product
Savings Account
Current Account
Term Deposit
Fixed Deposit
Recurring Deposit
Foreign Currency Accounts (FCNR)
Non-Resident External (NRE) accounts for Indian citizens settled in foreign countries
Zero Balance account for salaried class people
Basic Saving Bank Deposit account (erstwhile No frill accounts for the general public)
Senior Citizen Deposit accounts
Retail Loan Product
Home Loan for buying land and constructing a house for residential purposes or for buying a ready-built house or for repairing or renovating an existing house.
Auto Loan for buying new or used two or four-wheelers.
Education Loan for furthering education
Personal Loan for varied purposes like a holiday, medical treatment, and so forth
Consumer Loan for buying electronic goods for domestic use like air conditioner, refrigerator, television, etc.
Crop Loan for buying improved seeds, machinery, and fertilizers for farming.
Credit Card
Other Products
Safe deposit lockers
Depository services
Remittance services like NEFT, RTGS, IMPS, etc
Bancassurance
Investment advisory services
Wealth management services
Debit Card
Issue of draft
Collection of Cheques
Collection of Taxes from customers on the central government's behalf.
Purchase and sale of securities in the stock market on the customer's behalf.
Internet banking and mobile banking
Purchase and sale of foreign currencies to/from customers when they return from or go back to a foreign country.
Advantages of Retail Banking
The deposits from retail customers are stable and form core deposits. Such deposits are interest insensitive with less bargaining for additional interest. Also, they constitute low-cost funds for the banks.
An effective customer relationship management helps in developing a vast and strong customer base.
Retail banking also assists in increasing subsidiary businesses of the banks like insurance, etc.
It amounts to better yield and profitability.
It contributes to the economic development and economic revival of the country, through increased production.
Helps in improving the lifestyle of consumers by providing loans at affordable rate of interest.
Involves minimum marketing efforts.
Due to its large customer base, they have a diversified portfolio, which reduces the bank's dependence on a single borrower.
Disadvantages of Retail Banking
Monitoring and follow-up of a large number of loan accounts induce banks to spend heavily on manpower.
Banks invest heavily in technology for better services however, they are not utilized to that extent.
Nowadays, most customers are interested in other financial products such as mutual funds.
Long-term loans may turn into Non-Performing Asset (NPA) if they are not monitored and followed up properly.
A word from Business Jargons
So, we have understood that retail banking is when the bank performs transactions by directly dealing with customers. Cross-selling of a broad spectrum of credit and investment products and banking services amounts to their primary retail strategy.