Definition: There are several Theories of Motivation that are developed to explain the concept of "Motivation". The motivation is a drive that forces an individual to work in a certain way. It is the energy that pushes us to work hard to accomplish the goals, even if the conditions are not going our way.
With the establishment of human organizations, people tried to find out the answer to, what motivates an employee in the organization the most. This gave birth to several content theories and process theories of motivation.
The content theories deal with "what" motivates people, whereas the process theories deal with, "How" motivation occurs. Thus, theories of motivation can be broadly classified as: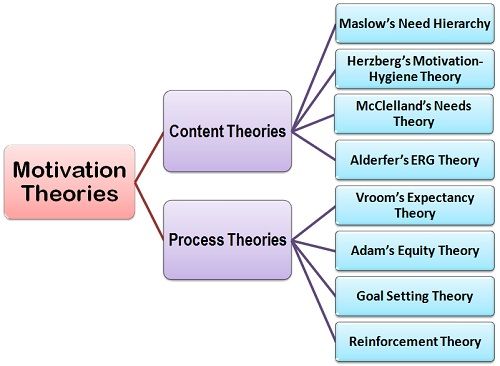 Content Theories: The content theories find the answer to what motivates an individual and is concerned with individual needs and wants. Following theorists have given their theories of motivation in content perspective:
Process Theories: The process theories deal with "How" the motivation occurs, i.e. the process of motivation and following theories were given in this context:
Thus, these theories posit that how an individual gets motivated to perform the task and what are the factors that contribute towards the motivation.