Definition: Power of Attorney (POA) implies a legal authority which designates a person the power to take decisions on behalf of someone else. It is essential in the event when the principal is incapacitated or not present in person to take a decision. The Power of Attorney Act 1888 regulates power of attorney.
Basically, POA is binding in nature. This means that it is a legal document in writing that a person drafts and authorizes another person to perform all the legal and financial transactions on the former's behalf. These transactions may include:
Receiving rent,
Debt,
Make an appearance and application in court or in front of an officer of registration.
In a nutshell, through a power of attorney, one can appoint another person to manage the assets, financial matters, medical and so on.
There are different types of POA, which decide the kind of affairs over which the holder has got power. Further, irrespective of the type of POA, if the person whom the holder represents passes away, the POA turns out null and void.
Parties Involved
Granting POA is a legal process. It involves the creation of a document in which someone else gets the right to act as a legal representative. It involves two parties:
Attorney: The person who gives authority is the Principal, Donor or Attorney.
Power of Attorney Holder: The person receiving the power is the donee or attorney. He is also referred to as the power of attorney agent.
Registration
Generally, registration of POA is not required. But, in case POA creates interest in any immovable property, then registration is a must. Appointing a POA is a private way of appointing an alternative decision-maker. It is a bit expensive, as it involves seeking help from a lawyer.
Types of Power of Attorney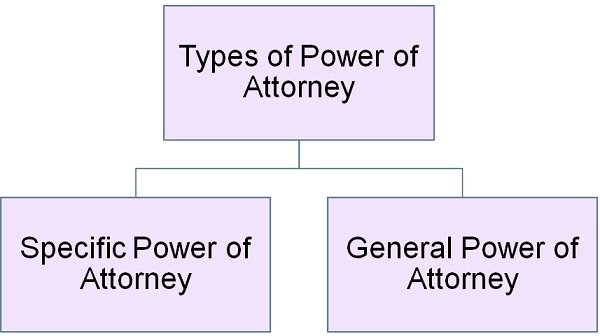 Special Power of Attorney
The execution of a POA for the purpose of a specific act is a special power of attorney. Here, the term 'specific act' means a certain act or acts related to one another to cause one judicial transaction.
General Power of Attorney:
Execution of POA to generally represent another person or perform several acts is a general power of attorney.
Note
: Because the donee of the POA plays the role of the agent of the donor, one should have knowledge of the
law of agency
.
Who can Execute the Power of Attorney?
Any person who is competent to contract can execute POA. Further, it can only be executed in favour of a person who has attained the age of majority.
Authentication
A POA does not require attestation. But it would be desirable to execute the POA and complete its authentication either by:
Notary Public
Any Court Judge or Magistrate
Indian Consul or Vice Consul
Representatives of Central Government
Power of Attorney by Company
We all know that a company is an artificial legal person which acts by means of its agents, who are the officers of the company. Companies delegate their power to their officers either by way of Board Resolutions or by way of POA.
Delegation of powers using POA is exercised because it is quite easy to prove the execution. Whereas, in the case of resolution, it is important to present Minutes to prove that the resolution is passed for delegation of powers.
Stamp Duty
POA is liable to stamp duty which varies from state to state. This means that the actual amount of duty will rely upon the state in which the POA is executed.
Suppose a POA is executed in a foreign nation; it has to be stamped within three months of its receipt in India. However, if the POA is not stamped within the specified period, then in such a case, it is regarded as unstamped, and it can't be executed.
A word from Business Jargons
Power of Attorney is of great help to elderly people and many others who choose a reliable person to act on their behalf. To be precise, POA includes any instrument empowering a certain person to act for and in the name of the person executing it. It can also be executed in favour of several persons. In such cases, it is advisable to disclose whether the donees will act jointly or severally.