Definition: Commodity Market implies the place where products, either produced or grown are being traded between investors. It brings together all the participants to determine the price, at which the commodity can be traded across the market.
To determine the price of the commodity in a commodity market auction mechanism is used wherein sellers ask for a certain price, while buyers propose a price, then they settle at a mutually agreeable price. Here, one thing is to be noted that sellers and buyers interact with each other through intermediaries, also known as brokers.
In a commodity market, the risk factor is comparatively higher than the share market, as the market is highly volatile and investors from different countries take part in the exchange of commodities.
At present, the two main commodity exchanges that are operating in India are – Multi Commodity Exchange popularly known as MCX, and National Commodity and Derivatives Exchange (NCDEX). Like Share Market, Commodity Market is also regulated by the Securities and Exchange Board of India (SEBI).
What is Commodity?
Commodity refers to the various raw material that is used to manufacture those products which are used by the consumers on daily basis. They are basic utility elements of a common man. It includes those items which are movable in nature, excluding actionable claims, money, and financial instruments.
Any tangible item of certain value having uniform quality and produced by a number of producers in bulk quantity is a commodity. Hence, commodity means:
Physical substance which is supplied across the market
No product differentiation
Existence of demand
Produced and sold by different producers.
In India, commodity trading takes place through derivative contracts. Now you must be wondering what is the derivative contract? A derivative contract is a contract between investors, in which the value relies upon the underlying financial asset or commodity.
Forwards, futures, options, and swaps are the four most commonly used derivative contracts. However, commodity trading is mostly done through a futures contracts.
Also Read: Difference Between Forward and Futures Contract
Classification of Commodities
Commodities are classified into two main categories: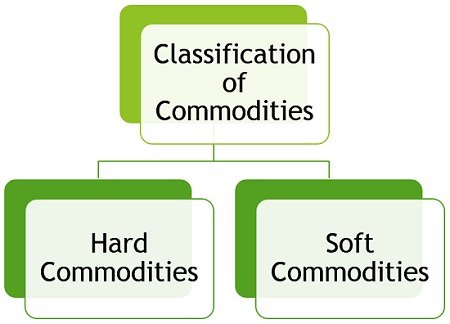 Hard Commodities: It entails natural resources which require mining and extracting, for example, gold, oil, silver, copper, zinc, etc.
Soft Commodities: It entails agricultural produce and livestock, for example, wheat, cotton, pulses, coffee, sugar, soybean, etc.
Types of Commodities Traded in Commodity Market
There are four segments in which commodities traded in the commodity market are classified, as you can see in the figure below: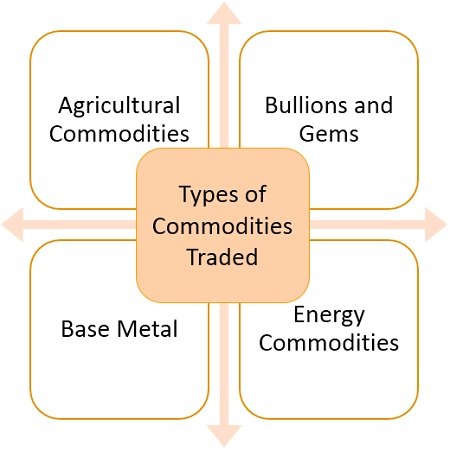 Now, let us discuss each of them:
| | |
| --- | --- |
| Agricultural Commodities | It includes those items which are perishable in nature like cotton, cardamom, barley, wheat, sugar, castor seeds, maize, potato, etc. Also, it covers processed commodities such as palm oil, soyabean oil, mustard oil, etc. |
| Bullions and Gems | Precious metals are included in this category such as gold, platinum, silver, diamond, sapphire, etc. |
| Energy Commodities | It covers energy resources both in its unprocessed and processed form like crude oil and natural gas. |
| Base Metal | Non-precious metals like copper, brass, aluminum, zinc, lead, iron and steel are covered in this category. It includes both mined metals and processed metals. |
Commodity Ecosystem
As already said, a commodity market is a marketplace where all the participants can meet and trade in commodities. So, here we are going to discuss who are these participants:
Buyers and Sellers of Commodities: The one who buys the commodity is the buyer, while the one selling it, is the seller. While sellers represent the supply side, buyers indicate the demand side. These are also called as investors. They play an important role in price discovery as the price is determined by demand and supply factors. It includes farmers, mining companies, manufacturing companies, importers, exporters, government, etc.
Commodity Exchange: It is the center of the entire commodity market, which provides a commonplace to millions of buyers, sellers, and other players.
Allied Entities: There are a number of entities apart from the commodity exchange that facilitates its smooth functioning. It includes depositories, clearinghouses, commodity brokers, warehouses, etc.
Regulatory Body: Just like the share market, commodity markets are also regulated by a government body, which ensures the protection of the interest of all the investors. Also, it regulates the operations of different participants and keeps a check on malpractices and frauds.
Hedgers: Hedgers use commodity derivative instruments to protect against the fluctuations in the prices of the underlying commodity, with the help of derivatives.
Speculator: Those who are not interested in ready contracts, but invests in commodity in the hope of making a profit.
Arbitrageurs: An arbitrageur is an investor who tries to earn profit through inefficiencies present in the market, be it related to price, regulation, or dividend.
A Word from Business Jargons
Commodity Market represents a market that deals in primary products. It plays a crucial role in understanding the way in which different factors affect the prices of the commodity in the market.